Creative Thinkers
Hudson Pacific puts priority on LA's tech and media companies
Friday, October 4, 2019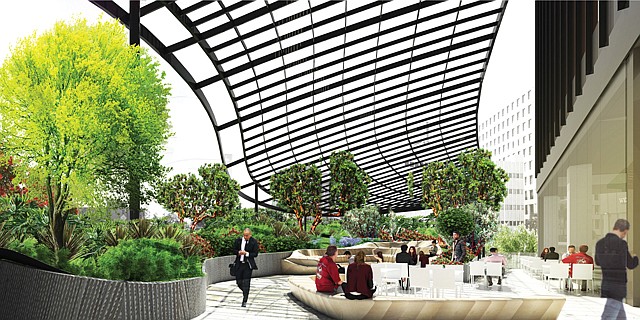 Soundstages. Preleasing. Tech and entertainment companies.
They're some of the hottest topics in any Los Angeles real estate conversation. And Hudson Pacific Properties Inc. checks all the boxes.
The Brentwood-based company boasts a portfolio of more than 20 million square feet, has nearly 1 million square feet of office properties in development across L.A. — 89% of which is preleased — and ranks as one of the city's biggest owners of soundstages for movie and television production.
"They have really made an effort to be a dominant player in the media tech office world, and it's hard to argue with their results," said Carl Muhlstein, international director at Jones Lang LaSalle Inc.
So far this year in L.A. County, technology companies have leased about 1.1 million square feet, while media and entertainment businesses have leased roughly 585,000 square feet, according to a study by brokerage Cushman & Wakefield Inc.
Hudson Pacific seems to be a favorite for these businesses.
"We're engaged in being a landlord in L.A.," said Alexander Vouvalides, chief investment officer at Hudson Pacific. "And L.A. has been the media capital of the world for as long as modern media has existed."
Creative offices
Hudson Pacific's properties fall under two categories: office buildings and studio spaces.
Tim Kawahara, executive director at the UCLA Ziman Center for Real Estate, called the group's projects "extraordinarily high profile." Hudson Pacific Chairman and Chief Executive Victor Coleman was one of the Ziman Center's founding board members.
"With all the streaming services and the need to generate content, you're seeing lots of that type of space being developed," Kawahara said. "Victor and Hudson Pacific have really been out in front of the market."
John Zanetos, an executive vice president at CBRE Group Inc., was part of the leasing team for Hudson Pacific's Arts District projects, the Maxwell and Fourth & Traction.
"What Hudson did to take a great building and make it better was they built a rooftop penthouse space that opened to a patio that has wraparound open spaces on the rooftop," Zanetos said of Fourth & Traction.
At the Maxwell, Hudson added two floors of office space on top of a parking structure, which Zanetos said is the first of its kind in the Arts District.
"Hudson really digs in and tries to find how to make the real estate work the best," Zanetos said.
After Hudson finished its Arts District projects, Zanetos added, other leases were signed in the area.
"There's continued interest as a result of Hudson's success in the Arts District," Zanetos said.
Preleasing pioneer
The dominance of tech and media companies, and the large footprints they require, has led to a new trend in L.A.: preleasing.
In October 2018, Netflix Inc. agreed to prelease Epic, a 13-story, 328,000 Hudson Pacific project in Hollywood; the Los Gatos-based streaming giant plans to move into the building in early 2020. Netflix also signed lease extensions for 326,000 square feet at Icon and 92,000 square feet at Cue. Both are on Hudson Pacific's Sunset Bronson Studios lot.
And in January, it was announced that Google would lease the Westside Pavilion space being redeveloped by Hudson Pacific and Macerich Co. The 584,000-square-foot project will be dubbed One Westside.
"Google and Netflix are part of 3 million square feet of preleases, which now has the greater L.A. market resembling Northern California where employers have preleased space before hiring the people to fill it," Muhlstein said.
Preleasing is being utilized outside of Hudson Pacific properties as well with companies like Facebook Inc. and Amazon.com Inc. adopting the practice.
Experts attribute the rise in preleasing to a lack of large blocks of office space on the market. When large floor plates are available for lease, companies jump at the chance.
"It's given greater confidence to developers to go spec as opposed to knowing you're going to have a tenant," Muhlstein said. "Right now, there's an acute shortage of new space for the next 24 months until new projects can provide relief,"
When preleasing happens, it can sometimes affect the course of the project.
"We try to work with them within certain parameters if there are modifications they would want to make," Vouvalides said. Sometimes this can actually increase the length of a project if major modifications are requested.
Source for soundstages
Vouvalides said the biggest change in L.A.'s marketplace has been brought on by streaming companies.
"That has resulted in demand for space," Vouvalides said. "These companies are growing as they increase their output, and that includes office demand. And on the production side, L.A. stage inventory is relatively finite, and the demand from the content operators continues to increase."
Previously, Vouvalides explained, companies would lease stages for a year. Now some are signing seven- or even 10-year deals.
Hudson Pacific owns Sunset Gower Studios, Sunset Bronson and Sunset Las Palmas. Together, the three studios contain 37 soundstages and 1.2 million square feet across 41 acres.
Film stages in Los Angeles are 95% occupied, up from 70% a decade ago, according to FilmLA Inc.
Low vacancy rates, reliable demand and long leases have led to significant interest in the asset type from investors.
"We were a very early mover in the space, well before the arrival of Netflix, Amazon and Hulu," Vouvalides said. "Back then, we thought it was a really good business. There's always going to be need for content. When the original investment was made, it was an opportunity to invest in a strong business that we thought was going to continue to grow. In some ways, entertainment is recession-proof. You're always going to need content."
Vouvalides added that many studios have excess land that Hudson can develop. The company, he said, is open to acquiring and building more soundstages. Hudson Pacific is looking at studios that were built for production and has "shied away from" converted warehouses.
Looking forward
Vouvalides said Hudson Pacific was taking a long-term view on its development in L.A. where the company is bullish on West L.A., Hollywood and Culver City.
"There's a lot of demand for that type of (creative office) product," Kawahara said. "They have a footprint in terms of being a leader in the space. I think they're well positioned as a market leader in the creative office, media tech space."
Hudson Pacific is also interested in developing offices in San Francisco, Silicon Valley, Seattle and Vancouver. It recently began restoration work on the iconic San Francisco Ferry Building.
In addition, the company is looking to build its studio platform in markets like Vancouver and New York.
"We will continue to grow thoughtfully," Vouvalides said. "There's no pressure on us to have to do any amount of investment in any one year."
And Vouvalides feels confident about the company's future in the event of a recession.
"It's definitely on our mind, but in the near term, we're still seeing amazing growth," he said. "If you're looking at the fundamentals on the ground, things still seem really good."
For reprint and licensing requests for this article, CLICK HERE.