Creative Thinkers
Hudson Pacific puts priority on LA's tech and media companies
Friday, October 4, 2019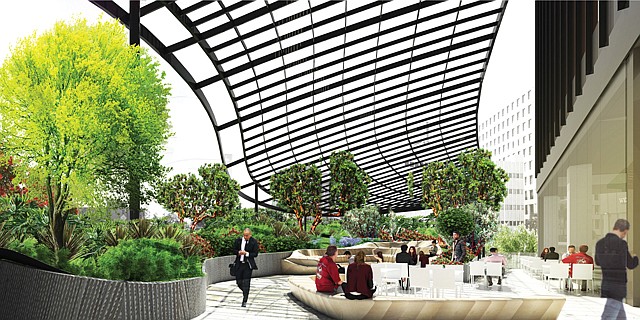 Soundstages. Preleasing. Tech and entertainment companies.
They're some of the hottest topics in any Los Angeles real estate conversation. And Hudson Pacific Properties Inc. checks all the boxes.
The Brentwood-based company boasts a portfolio of more than 20 million square feet, has nearly 1 million square feet of office properties in development across L.A. — 89% of which is preleased — and ranks as one of the city's biggest owners of soundstages for movie and television production.
"They have really made an effort to be a dominant player in the media tech office world, and it's hard to argue with their results," said Carl Muhlstein, international director at Jones Lang LaSalle Inc.
So far this year in L.A. County, technology companies have leased about 1.1 million square feet, while media and entertainment businesses have leased roughly 585,000 square feet, according to a study by brokerage Cushman & Wakefield Inc.
Hudson Pacific seems to be a favorite for these businesses.
"We're engaged in being a landlord in L.A.," said Alexander Vouvalides, chief investment officer at Hudson Pacific. "And L.A. has been the media capital of the world for as long as modern media has existed."
Creative offices
Hudson Pacific's properties fall under two categories: office buildings and studio spaces.
Tim Kawahara, executive director at the UCLA Ziman Center for Real Estate, called the group's projects "extraordinarily high profile." Hudson Pacific Chairman and Chief Executive Victor Coleman was one of the Ziman Center's founding board members.
"With all the streaming services and the need to generate content, you're seeing lots of that type of space being developed," Kawahara said. "Victor and Hudson Pacific have really been out in front of the market."
John Zanetos, an executive vice president at CBRE Group Inc., was part of the leasing team for Hudson Pacific's Arts District projects, the Maxwell and Fourth & Traction.
"What Hudson did to take a great building and make it better was they built a rooftop penthouse space that opened to a patio that has wraparound open spaces on the rooftop," Zanetos said of Fourth & Traction.
At the Maxwell, Hudson added two floors of office space on top of a parking structure, which Zanetos said is the first of its kind in the Arts District.
"Hudson really digs in and tries to find how to make the real estate work the best," Zanetos said.
After Hudson finished its Arts District projects, Zanetos added, other leases were signed in the area.
Prev Next
For reprint and licensing requests for this article, CLICK HERE.