Snap Rolls Out New Spectacles
Wednesday, November 13, 2019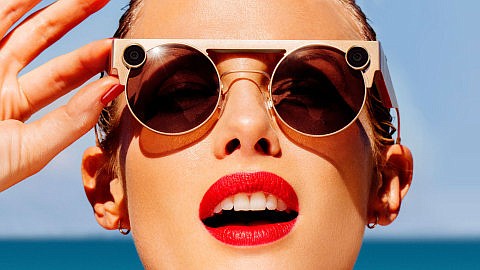 Santa Monica-based social messaging company Snap Inc. released the latest version of Spectacles, its camera- and video-capable glasses, on Nov. 12.
The third iteration of Spectacles retails for $380, making it more expensive than the company's first two versions. According to Snap's website, the new Spectacles 3 will ship within a week and will be covered by a one-year warranty.
Spectacles and their ancillary parts — charging cables, cases and 3D viewers — are the only hardware Snap offers. They're considered key to the company's larger mission of becoming a trailblazing and profitable augmented reality and computer vision firm.
"Looking out over the long term, the next seven to 10 years, we will work toward realizing our vision of computing overlaid on the world through wearable augmented reality," Snap Chief Executive Evan Spiegel said during the company's recent third-quarter earnings call.
"We took an important step forward toward an augmented reality future this quarter with the release of Spectacles 3," Spiegel added.
In late September Snap announced its mobile camera application can now process 3D images, a feature compatible with Spectacles, which comes equipped with two high-definition cameras that can work in 3D as well as standard 2D.
Photos and videos from the glasses can be overlaid with new augmented reality filters available in the Snap app.
"Depth is an important building block for our augmented reality technology because it allows our camera to better understand the world and overlay experiences on top of it," Spiegel said.
Past versions of Spectacles met with lukewarm customer satisfaction and low sales.
"We are building low volumes of Spectacles 3 and using this iteration to test and learn more about wearable computing," Spiegel said. He didn't specify how many spectacles will be delivered.
Snap reported third-quarter earnings last month. The company grew its revenue 50% year over year to roughly $446 million. Its audience expanded slightly to 210 million daily active users, up from 203 million the previous quarter. The company reported losses of $42 million, down $96 million year over year.
Tech reporter Samson Amore can be reached at samore@labusinessjournal.com or (323) 556-8335. Follow him on Twitter @samsonamore.
For reprint and licensing requests for this article, CLICK HERE.