Office Conversion Planned for Former Westside Pavilion Macy's
Monday, November 11, 2019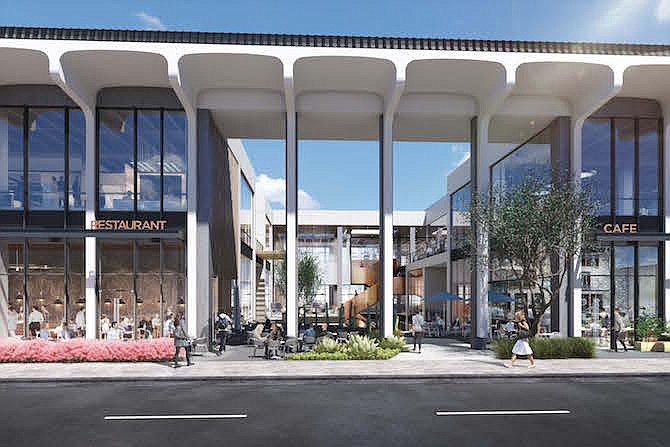 With big-box retail space no longer in high demand, developers are finding creative ways to refashion those properties to meet new needs.
The latest example of this trend comes from Brentwood-based GPI Cos., which announced plans on Nov. 4 for a $180 million redevelopment to convert the former Westside Pavilion Macy's into office space.
Macy's was an anchor store at the mall until it closed in 2018. The new development in the Macy's location, dubbed West End, will feature 230,000 square feet of office space.
"Our plans for West End completely transform this former department store into the Westside's premier modern office campus," GPI Managing Partner Drew Planting said in a statement. "This submarket is rapidly becoming a compelling new office hub in the city, anchored by Google's new 584,000-square-foot office complex adjacent to West End."
HLW International is designing West End, which will feature floor-to-ceiling windows, a three-level central courtyard, balconies and large floor plates.
"We expect that the design will enhance productivity and create an authentic and welcoming environment that is in such high demand by today's leading creative and financial companies," Sejal Sonani, a design principal at HLW, said in a statement.
Construction is expected to be completed in 2021. Jones Lang LaSalle Inc. has been tapped as the leasing agent for the project.
GPI purchased the Macy's building along with a 1,500-car parking garage and six acres of adjacent land in 2017 for $50 million.
It isn't the only change planned for the once-bustling mall.
Tech giant Google has signed a lease for Hudson Pacific Properties Inc. and Macerich Co.'s Westside Pavilion redevelopment, called One Westside. The project is expected to be completed in 2022.
That makeover, which is being designed by Gensler, will result in a 584,000-square-foot creative office building.
"The day of the quarter-million-square-foot department store is behind us," said Carl Muhlstein, international director at JLL. He expects to see more retail-to-office conversions moving forward.
Other brokers agree.
"This is going to be more common," said Gabe Kadosh, a vice president of retail services at Colliers International Group Inc. "Big-box space is certainly going to have different uses. The general demand for store size is getting smaller."
Kadosh anticipates that more Macy's locations, as well as other department stores, will be converted to medical and creative offices.
"The retail environment has changed from the large department stores, big box-type scenarios and quite frankly enclosed malls that are of older vintage," said Christopher Maling, a principal at Avison Young Inc. "It is space that is not re-leasable in a retail environment."
For building owners, the conversions are being done out of necessity.
"Landlords can't receive zero rent," Kadosh said. "To rehab the building to uses that are going to generate income quicker makes a lot more sense than trying to find a retail tenant because there aren't that many retail tenants taking large spaces anymore." He added that "office is generally pretty easy to convert to."
The appeal of these conversions, experts agree, is the access to amenities, large amounts of space and parking.
"You don't have creative office projects of this size in such an infill market," Maling said. "It's a very unique dynamic and a very lucrative decision to convert that type of retail use to creative office."
And in the case of the Westside Pavilion, the location is a huge plus.
"The two things are location and size," Muhlstein said. "The location is inside of the Loop, as we affectionately refer to the 10 and 405 freeways. And size. It has very large floor plates. The transit is another big one. It is in easy walking distance to an Expo Line stop."
Commercial real estate reporter Hannah Madans can be reached at hmadans@labusinessjournal.com. Follow her on Twitter @HannahMadans.
For reprint and licensing requests for this article, CLICK HERE.