Edison Preps $4B Nuclear Project
AECOM will start San Onofre demolition in 2020
Friday, November 8, 2019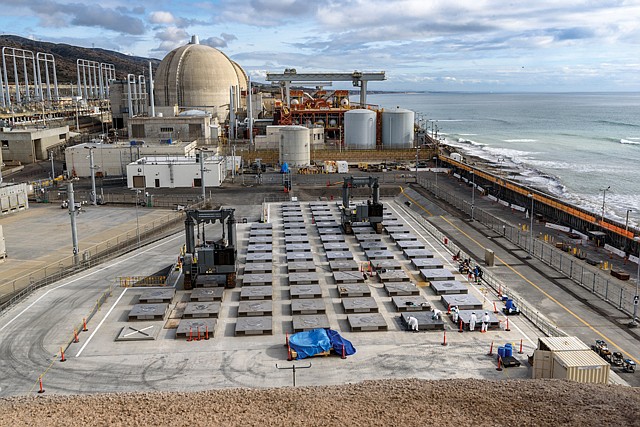 Most infrastructure work is about building new facilities to support the movement of vehicles, water or electric power. But a massive new project will soon get underway that's all about removing infrastructure.
Southern California Edison, the electric utility subsidiary of Rosemead-based Edison International, recently announced it will begin a $4.4 billion, 10-year project next year to decommission the shuttered San Onofre nuclear power plant in northern San Diego County.
A joint venture of Century City-based AECOM and Salt Lake City-based EnergySolutions Inc. will tackle the bulk of the work, including dismantling the containment domes and related structures, decontaminating the soil, and restoring the site for future uses. The project is expected to employ up to 600 people.
Edison made the announcement in a Securities and Exchange Commission filing as part of its quarterly earnings report on Oct. 29. The utility received final regulatory approval last month for the decommissioning from the California Coastal Commission.
The SEC filing announcement said the start date could be delayed if any legal challenges to the regulatory approval emerge.
San Onofre, which started operations in 1968, generated up to 2,200 megawatts of electricity when running at full capacity. Southern California Edison owns 78% of the nuclear facility; San Diego-based Sempra Energy's San Diego Gas & Electric utility subsidiary owns 20%, and the city of Riverside owns the remaining 2%.
A small leak of radioactive material forced a shutdown of the facility in January 2012; a subsequent investigation found several cracks in tubing of newly installed steam generators. Edison made the shutdown permanent in 2013.
Southern California Edison awarded the main decommissioning contract to the
AECOM-EnergySolutions joint venture in December 2016. At the time, AECOM Chief Executive Michael Burke said, "We are proud to be selected for one of the largest and most technically complex projects in the country, leveraging capabilities across all of our segments to ensure the safe decommissioning of the San Onofre nuclear plant."
In September 2018, the joint venture appointed longtime nuclear industry executive Tom Dieter to lead the project. But work was not able to begin until Edison secured all regulatory approvals, which took until last month.
The decommissioning cost will be covered by a fund set up for that purpose that was paid into over several decades by electricity ratepayers.
For reprint and licensing requests for this article, CLICK HERE.