Accent Marks
Darrell Miller I Fox Rothschild
Friday, November 8, 2019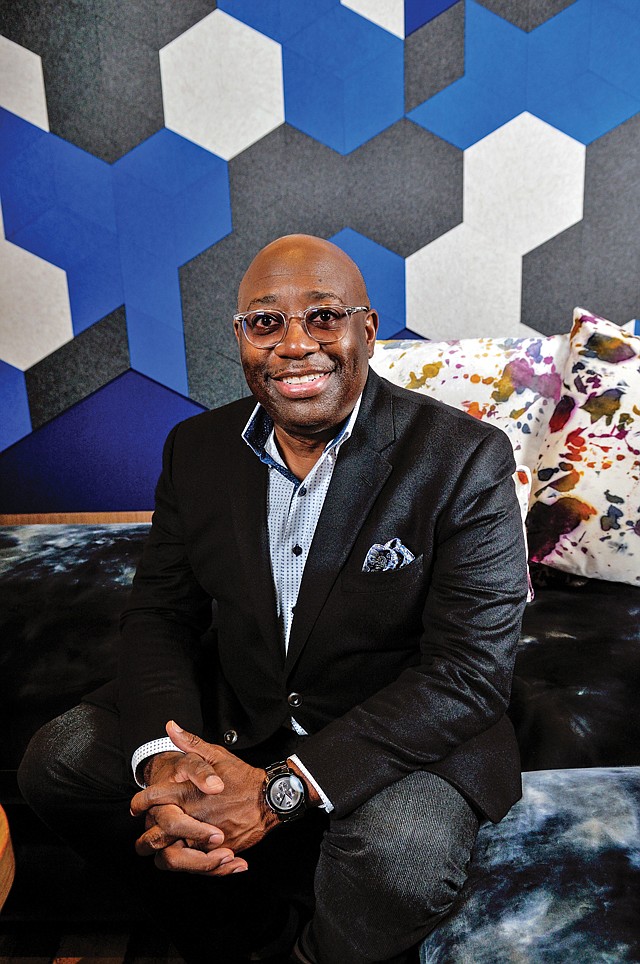 D arrell Miller, partner and chairman of the entertainment department at the Century City offices of Philadelphia-based law firm Fox Rothschild, said there's one thing he makes sure to wear to work every day — a smile.
Miller also approaches his wardrobe with a smile, or perhaps a wink. He upends the predictable, conservative ltawyer garb of suit and tie with distinctive accessories, some of which are so traditional they have now become retro-cool, such as shirts with crisp French cuffs.
"If you want a boring lawyer, go down the street," Miller said cheerfully.
He breaks the mold for his profession by coming to entertainment law after a career as a singer and performer. And even though Miller usually wears suits, he likes to change things up with a wide range of cufflinks, glasses, socks, watches and pocket squares.
Miller's celebrity clients include actors Angela Bassett and Rocky Carroll as well as producers Cheo Hodari Coker and Reginald Hudlin. In his 2014 book "The 16th Minute of Fame," he encourages stars to lengthen their careers by developing new revenue streams beyond performing, and he applies the principle of continual innovation to both his work ethic and his dress.
"I've always had a distinct taste for style, and style for me has never been about labels or brands (but) about having the right look and the right feel," said Miller, dashing in and out of the firm's media room with cases bearing his carefully arranged collections of accessories with the joy of a kid showing off his favorite toys.
"Women do it with brooches, pins, necklaces, rings, fingernails," Miller said. "A guy in my position is really relegated to just a few things."
Miller said L.A.'s entertainment attorneys can be found wearing everything from T-shirts to motorbike jackets. He refuses to divulge the name of one well-known lawyer who favors camouflage parachute pants with Asian-style tops. In contrast, he describes his own preferred look as "put together."
Miller's French cuffs, cuff links, and pocket squares that may be made of sumptuous silk or perhaps white cotton folded into four neat points do indeed create a put-together look, especially when paired with one of his 10 black cashmere jackets by various makers. Sometimes he trades the shirt for a black mock turtleneck sweater.
Miller acknowledges he has spared no expense on some accessories but said he makes choices based on variety and personal significance, not expense. For example, a favorite pair of cuff links represent mini "action slates" of the type used to indicate the beginning of a take on a TV or movie set.
"It's about having the right accents to your wardrobe," Miller said.
For reprint and licensing requests for this article, CLICK HERE.