M-Rad Sets Sights on Growth
Architecture firm lines up projects, adds new products
Friday, November 1, 2019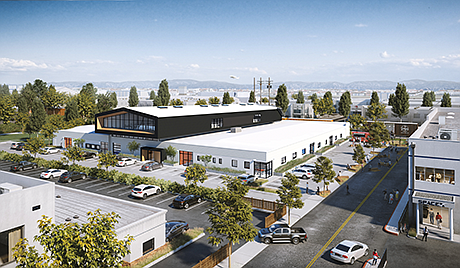 Mid-City architecture firm M-Rad Inc. is growing, taking on more work and different types of projects than ever before. And it's staffing up to support those initiatives.
The moves are all part of the master plan by founder and Chief Executive Matthew Rosenberg, who envisioned a different type of architecture firm when he launched M-Rad in 2012.
"The industry seemed broken," Rosenberg said. "The goal was to study and examine and test our methods to run a better business. We did that by extending the scope of the architect."
That includes M-Rad taking equity in projects. The group is now paid with design fees and equity in properties it helps create.
Some of its biggest projects include Ring's new headquarters in Hawthorne, the Fitler Club in Philadelphia, and the BioTech Hotel in South San Francisco.
The new office space for Ring, a subsidiary of Amazon.com Inc., will be an adaptive reuse of two 18,000-square-foot warehouses. The headquarters will have 60,000 square feet of open concept and private offices in addition to a photo studio and a prototype lab.
The Fitler Club is a 78,000-square-foot, members-only development in Philadelphia's City Center area. The club will have a bowling alley, pool, hotel rooms, and events and coworking spaces.
The BioTech Hotel is a 500,000-square-foot mixed-use development. The 14-story property will have more than 300 rooms and ground-floor retail.
M-Rad is also working on modular units, which Rosenberg hopes will streamline affordable housing. In addition, the firm is designing some single-family luxury homes on a spec basis, including the Malibu Stitch House and the Donhill Residence.
M-Rad is also working on designs that go beyond buildings. For example, the company is in the early stages of making utensils for people with arthritis. And it is designing and selling furniture to clients and making furniture for its hotel projects that guests will be able to purchase. There are plans to eventually expand furniture sales into a larger part of the business.
For reprint and licensing requests for this article, CLICK HERE.