Grind Minds the Gap for Underbanked
BANKING: Startup courts inner-city communities
Friday, November 1, 2019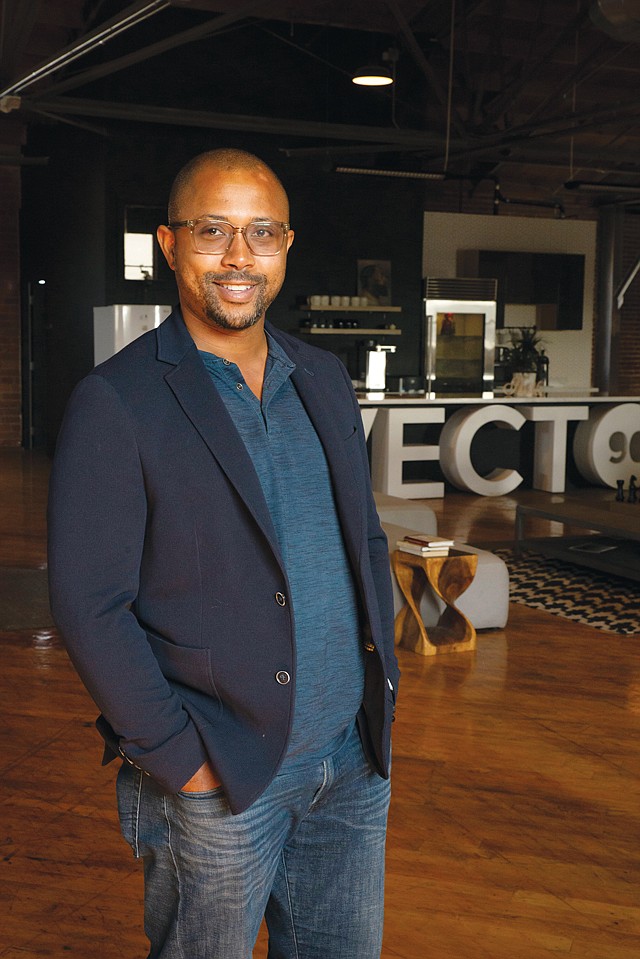 Brinson "B.C." Silver is not a typical banker.
The 39-year-old financial tech executive turned startup entrepreneur grew up as a ward of the state in Atlanta. Orphaned at 10 years old, Silver spent most of his childhood as a self-described "at-risk youth."
His bank is also not typical. Crenshaw-headquartered Grind Banking is a mobile platform catering to the needs of the African American community and other underserved groups. Despite launching less than six months ago, Silver says the bank has already opened more than 40,000 FDIC-insured debit accounts.
Silver's Grind story dovetails with that of another Crenshaw institution — the late rapper and entrepreneur Nipsey Hussle.
With Grind based in Vector90, the coworking space established by Hussle, Silver found that he and Hussle shared a vision for how local jobs and a burgeoning startup scene could bring opportunities to inner-city communities in Los Angeles and beyond.
The Federal Deposit Insurance Corp. reported in 2017 that more than 30% of African-American households are underbanked. By designing banking features — such as all-hours customer service, mobile-first bill pay and check cashing, and the option to receive a direct-deposit paycheck up to two days early — with this community in mind, Silver hopes to help fill a persistent gap.
The model has potential, according to Wilton Risenhoover, founder of small cap-focused hedge fund QuantSoft Capital Partners and a former member of the UCLA Venture Capital Fund's investment committee.
"It's a well-tested, tried-and-true approach to delivering services," Risenhoover said. "Identify a market that is not being addressed well enough by existing incumbents and provide a service targeted at them."
After breaking out of poverty in Atlanta, Silver got his MBA in marketing from the University of Tennessee. He worked as an executive for consumer brands including Clorox Co. and Mars Inc. until 2017, when he was approached by a headhunter.
In what would be his first foray into financial technology, Silver accepted an offer as a general manager for Pasadena-based Green Dot Corp., one of the world's largest prepaid debit card companies.
The former consumer brands executive immediately took to the financial services industry. "I loved the space because it was a way to interact and get connected to people in a much more involved and emotional way," Silver said.
"It's one thing to help a person do their laundry," he added, referring to his former role as a brand strategy director at Clorox. "It's another thing to manage their money. That's way more personal."
Prev Next
For reprint and licensing requests for this article, CLICK HERE.