SETTING THE STAGE
Streaming is a boon for the handful of companies that own Tinseltown's studio space
Friday, May 31, 2019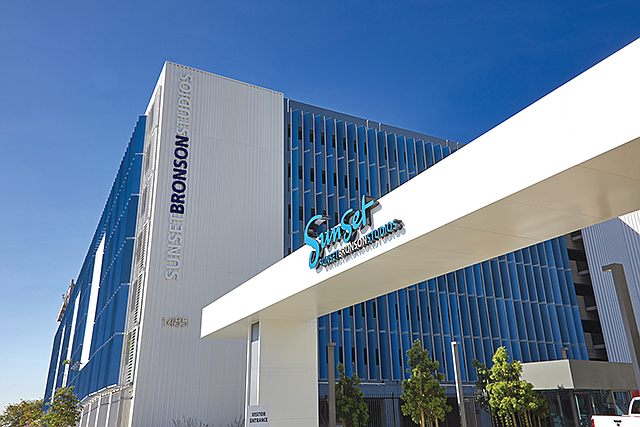 Film and television production has been reborn in Los Angeles in recent years, thanks to the growth of streaming services like Netflix Inc. and Hulu as well as tax incentives.
In L.A., that renaissance is a boon for the handful of local property owners with deep portfolios of soundstage and studio buildings. Brentwood-based Hudson
Pacific Properties Inc. is one of the biggest owners of studio space in the region. It owns Hollywood's famed Sunset Gower Studios as well as the nearby Sunset Bronson and Sunset Las Palmas properties. The three studios contain a combined 37 soundstages and 1.2 million square feet of facilities on 41 acres.
Bill Humphrey, senior vice president for Sunset Studios at Hudson Pacific, said the company's studios are close to 100% occupied.
"The demand for spaces has significantly outpaced the stages," Humphrey said. "Companies are looking to lock down as many studios as they can to have that means of production."
Across greater Los Angeles, film stages are 95% occupied, up from 70% a decade prior, according to the nonprofit regional film office, Film LA Inc. "It's a great time to be a soundstage owner," said Paul Audley, Film LA's president.
A consolidated business
While major studios like Paramount Pictures Corp., Warner Bros. Entertainment Inc. and Walt Disney Co. house some soundstages on their lots, most of the studio space in the L.A. region is owned by a small number of companies, brokers said.
Besides Hudson Pacific, Occidental Entertainment Group Holdings Inc., Hackman Capital Partners, Quixote Studios and Bristol Group Inc. hold significant assets for film and television production in Los Angeles.
For many property companies, it doesn't make financial sense to own production facilities, said CBRE Group Inc. Executive Vice President Craig Peters.
"Most of the investors love to see buildings that have long-term leases with a stable income stream," Peters said. But for film and television production, leases often don't go longer than a year — since that's the longest it would take to shoot a movie or a season of a TV series.
That business model can be lucrative — it just takes more work. "It's much more operating a business than just a passive real estate investment," Peters said.
Occidental Entertainment Group owns and leases dozens of soundstages as well as filmmaking equipment around the county. Chief Executive Craig Darian said the rise of streaming services has been good for business. He said Occidental's stages have been 100% occupied.
Building out
In 2011, Occidental built a 14,000-square-foot soundstage, which turned out to be a good investment, Darian said. "It was deemed to be idiotic at that time," he said. "But what was roughly a $12 million investment returned itself in less than three years."
Building new soundstages is no easy task in the L.A. market.
"They are incredibly expensive to build. For most developers, they don't pencil out," Hudson Pacific's Humphrey said.
To build a soundstage you need lots of space and parking. It's hard to convert warehouses to soundstages because of the way the buildings were initially built. Some are near airports and other noisy areas. Many have loud AC systems, which would need to be replaced, and structural walls in the middle of buildings.
"It's at least twice as expensive as building a traditional warehouse," said John Tronson, a principal at Avison Young.
Another big player in the studio game is Sawtelle-based Hackman Capital. In December the group broke ground on a project at Culver Studios to modernize and double the size of the space. The facilities will have 720,850 square feet, including 96,263 square feet of stages.
The group also recently finalized its purchase of the CBS Television City lot, at Fairfax and Beverly, for $750 million.
Long-term leases
Brokers said studio-space expansions are less risky now because the tight market is driving more film and television producers to sign longer leases.
"Landlords aren't being leveraged into making deals they don't want," Tronson said.
Players in the streaming market are signing on for much longer than studio owners have seen historically. Humphrey said many streaming services are focused on technology and distribution, and not on owning real estate.
Los Gatos-based Netflix has signed multiyear lease agreements for 560,000 square feet of office space, soundstages and production offices at Sunset Bronson Studios.
Seattle based Amazon.com Inc., meanwhile, has signed leases for 530,000 square feet at Culver Studios. It also leases space at Hackman's nearby Culver Steps development.
Peters said in the current market, even shorter leases are viewed by studio owners as beneficial. "You get a good return from the short-term leases when there's this much of a supply-demand imbalance in the market," he said.
On May 29, a subsidiary of Santa Monica-based BLT Enterprises Inc. made its first studio space acquisition, the Ben Kitay Stages in Hollywood. The property is more than "a pure real estate play," Bernard Huberman, founder and president of BLT, said in a statement. "After rolling up our sleeves and learning about the exciting business of stage and equipment rentals, we quickly realized this was an opportunity we didn't want to pass up."
For reprint and licensing requests for this article, CLICK HERE.