Second Home Taps Ex-Clippers Exec
Company to open first flexible office location in Hollywood later this year
Friday, May 31, 2019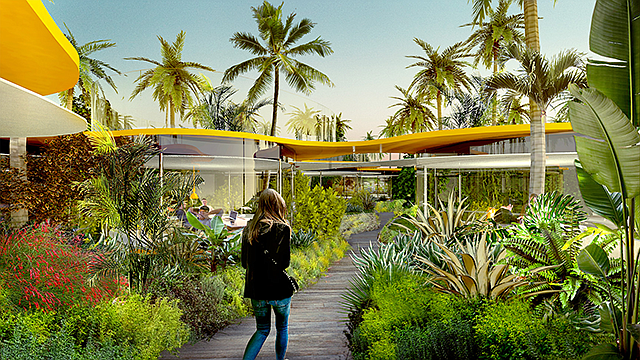 Former Los Angeles Clippers President Andy Roeser has been named chief executive of the U.S. division of Second Home Ltd., a flexible office space company.
London-based Second Home was founded by Sam Aldenton and Rohan Silva, who opened their first location in London in 2014.
Roeser, who is based in Los Angeles, is helping to launch Second Home Hollywood, the group's first U.S. location. The Mid-Century building at 1370 N. St. Andrews Place features a unique, undulating design and multiple garden spaces. Roeser said it will open by the end of the summer.
"I think we're off to a good start in bringing the unique Second Home charm from London to Los Angeles," Roeser said.
Roeser will oversee the company's development and operations in the United States. He said he's likely to start by opening a handful of locations in L.A. before expanding to other cities.
In choosing sites, Roeser said he is focused on "location, location, location," looking specifically at areas where younger, growing companies can thrive.
Second Home Hollywood will offer 60 private studios and other workspaces, housing teams of up to 250 people. Second Home Hollywood will have room for 200 companies and 1,400 people.
Roeser said the location would have "a good variety in terms of size and industries represented." The location will have three cultural venues. It will also boast roof decks, kitchens, and editing and post-production studios, he said. Restaurant and roof deck catering will be done by Croft Alley, run by chef Phuong Tran.
Initially designed by Paul Williams in 1963, the workplace includes garden studios and an L.A. outpost of Second Home's Libreria bookshop. Design firm SelgasCano is leading the remodel on the property, which is roughly 90,000 square feet.
Roeser previously launched Roeser Management Group and spent 30 years with the Clippers, including eight as president. Roeser Management Group counted Ticketmaster Entertainment and the Anaheim Ducks as clients.
In 2014, Roeser took an indefinite leave of absence from the Clippers after the NBA hit owner Donald Sterling with a lifetime ban over racist comments. Roeser was criticized at the time for comments that were seen as too lenient toward Sterling.
Roeser said real estate and entrepreneurship are two things he's been interested in — and what drew him to Second Home.
Second Home is not the only flex office provider to make its way to Los Angeles this year. In February, New York-based Knotel Inc. announced it signed its first L.A. lease in Santa Monica.
CORRECTION: An earlier version of this story misstated Second Home Hollywood's name. It also misstated the amenities that will be available at the company's Los Angeles office. It will offer three cultural venues.
For reprint and licensing requests for this article, CLICK HERE.