LAX, LAUSD Partner for Jobs
Program will place students in positions throughout the airport
Friday, May 31, 2019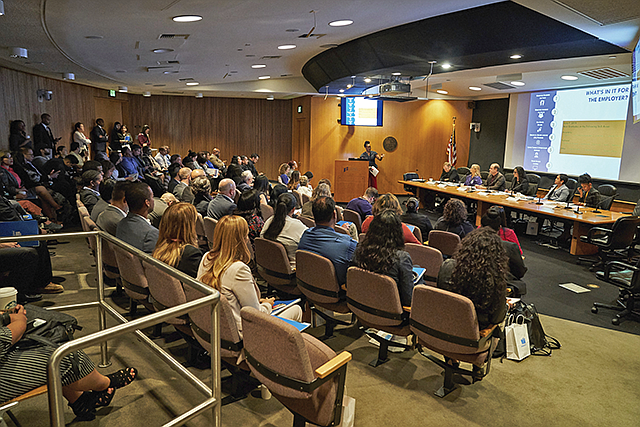 Los Angeles World Airports and the L.A. Unified School District have launched an initiative to prepare students for jobs at the airport.
The district and the city agency that runs Los Angeles International Airport and two other local airports said last month that the program seeks to place students in a range of jobs including working on construction projects related to the $14 billion airport overhaul now underway.
Several construction contractors are participating in the initiative — including Linxs, a joint venture that has begun work on the $5 billion contract to build and operate the automated people mover at LAX. The program also aims to prepare students to work on the planned $2 billion car rental facility east of LAX, which is being built by LA Gateway Partners, a joint venture comprised of 11 contractors including downtown-based design firm A.C. Martin Partners. Also participating is a joint venture of New York-based Turner Construction Co. and Edmonton, Alberta-based PCL Construction Group Inc., which is building the $1.6 billion midfield satellite concourse behind the Tom Bradley International Terminal.
According to the joint announcement from the two agencies, LAWA and LAUSD anticipate the partnership will help a greater number of local workers find jobs at LAX while also matching the region's growing workforce with anticipated demand by airport employers. According to an airport spokesman, there is no specific target for the number of students who would be hired as workers.
"Building a world-class airport requires a remarkable team of people, and finding those people takes strategic partnerships," Sean Burton, president of the Los Angeles Board of Airport Commissioners, said in a statement. "This first-of-its-kind partnership with Los Angeles Unified School District connects us to the incredible pipeline of talent that we find in our local public schools, and will give students and adults the information and training they need to start a career at one of our airports."
For reprint and licensing requests for this article, CLICK HERE.