Traditional Tenants Top Downtown
Friday, May 17, 2019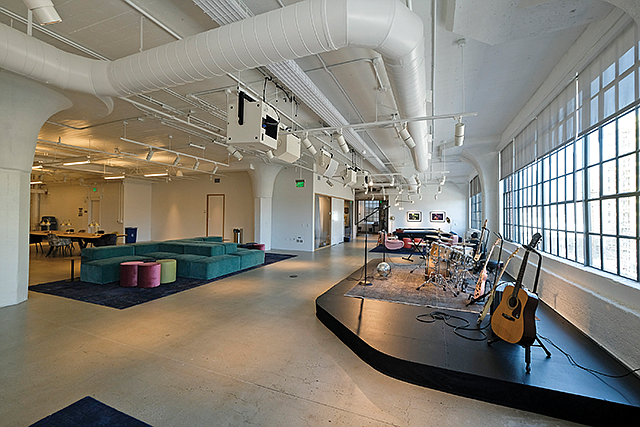 Banking, finance, insurance, real estate and legal service companies make up 59% of the tenant base downtown, but other industries are expanding their presence in the city's central business district, according to real estate services firm Jones Lang LaSalle Inc.
Media and entertainment make up 5% of the tenant base — up from 3% five years ago, according to JLL. And while downtown legal services have declined to 30% of the tenant base from 35% five years ago, coworking has nearly quadrupled its footprint over the same time period and now takes up 5% of offices in the area, JLL found.
Coworking and flexible space represent more than 500,000 square feet of absorption in the market. WeWork Cos. Inc. alone has 300,000 square feet of coworking space, and in the last four months, it signed 140,000 square feet of new leases. Its newest locations will be at The Maxwell at 1019 E. 4th Place in the Arts District and in the Western Pacific Building at 1031 S. Broadway. Both locations are scheduled to open in the fall.
CommonGrounds Workplace and Carr Workplaces Inc. have also signed leases downtown over the last four months. San Diego-based CommonGrounds announced April 24 it had signed a 13-year lease for nearly 46,000 square feet at 915 Wilshire Blvd. It is scheduled to open in early 2020. The building is owned by Lincoln Property Co.
Carr Workplaces said in March it had signed a 24,000-square-foot lease for The Bloc. The location is the group's only L.A. outpost. The Bloc is a mixed-use site with office, hotel and retail redeveloped by National Real Estate Advisors.
On the media and entertainment front, Warner Music Group Corp. and Spotify Technology have signed leases for a combined 370,000 square feet in the Arts District.
Spotify signed a lease last July for almost 110,000 square feet at 551-581 Mateo St. It is expected to occupy the building later this year.
Warner Music Group moved into its new West Coast headquarters at 777 S. Santa Fe Ave. earlier this year. The group's parent company, Access Industries Inc., bought the property for $195 million from Shorenstein Properties shortly after WMG arrived. The deal closed at the end
of March.
For reprint and licensing requests for this article, CLICK HERE.