Parsons IPO Raises $500M for Engineering Firm
Initial offering comes on heels of move to Virginia to be closer to client base
Friday, May 10, 2019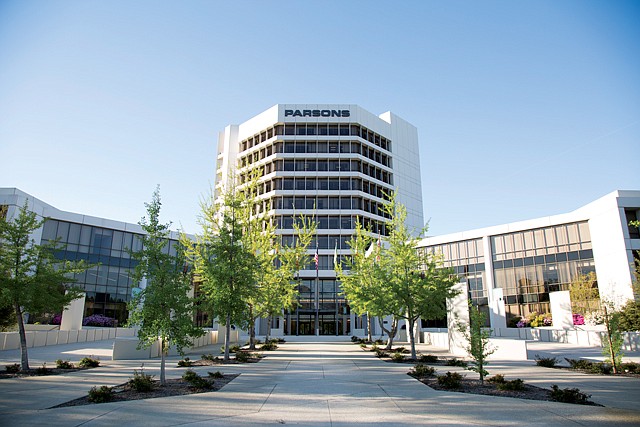 Engineering firm Parsons Corp., which announced in February that it moved its headquarters from Pasadena to Centreville, Va., became a publicly traded company last week.
Parsons, which trades under the PSN ticker, priced its shares at $27 and sold 18.5 million shares to raise $500 million.
In its trading debut Wednesday, the stock closed at $30.15, up $3.15, or 11.7 %, above its IPO listing price.
The company, which was founded in 1944, has grown into an engineering and consulting giant, with more than 16,000 employees globally and 2018 revenue of $3.6 billion. The company ranked No. 8 on the Business Journal's 2018 list of largest private companies based on its reported $3 billion revenue in 2017.
About 500 employees had worked at the Pasadena headquarters and about 800 at other locations in California. A Parsons spokeswoman previously said in a statement that there would be no layoffs or relocations of those employees, at least through 2026 when the Pasadena building lease ends.
• • •
Kindred Adds Promise Hospital To Network
Promise Hospital of East Los Angeles has been purchased by Louisville-based Kindred Healthcare, a healthcare services company that operates long-term acute-care hospitals and provides rehabilitation services across the United States.
Terms of the transaction were not disclosed.
Based in Paramount, the hospital was renamed Kindred Hospital Paramount.
The hospital — which is a 177-bed hospital specializing in long-term acute care services for respiratory care, advanced wound care and rehabilitation therapies — was formerly owned by Promise Healthcare Group.
With the addition of Kindred Hospital Paramount, Kindred operates a dozen long-term acute care hospitals in the Southern California market, said the company's President and Chief Executive Benjamin Breier.
Kindred's revenues last year were $3.3 billion.
• • •
Alera-backed Dickerson Acquires Shepler & Fear
Echo Park-based Dickerson Insurance Services, which was purchased by Alera Group Co. last year, has acquired Northern California-based brokerage firm Shepler & Fear General Agency.
Deerfield, Ill.-based Alera Group, an employee benefits and insurance brokerage platform, bought Dickerson in May. Alera was formed two years ago and has become one of the nation's biggest independent insurance agencies. It has more than 750 employees and serves 20,000 clients nationally through a local distribution model.
Founded in 2009, Shepler & Fear General is an insurance agency located in Roseville that specializes in employee benefits.

Michael Wolff, Dickerson's managing partner, said in an interview that San Francisco-based private equity firm Genstar Capital launched its roll-up of independent insurance agencies back in 2017 when two dozen agencies initially came together to form Alera.
Dickerson was the 49th agency to be bought by Alera, which also funded the Shepler & Fear purchase — Alera's 73rd acquisition according to Wolff. Alera also bought another agency, Mid-Wilshire-based Shomer Insurance Agency Inc. on May 1.
Insurance agencies have largely flown under the radar for private equity investment, Wolff said. "We've seen a consolidation in so many industries, but insurance agencies were overlooked," he said. "It's a roll-up (strategy of acquiring agencies), but we retain our own entrepreneurship."
• • •
RLH Sells Chartis Group
Riordan Lewis & Haden Equity Partners, a Westwood-based private equity firm that manages more than $1 billion in assets, said last week it sold portfolio company Chartis Group to Audax Private Equity Fund of Boston.
Chicago-based Chartis is an advisory firm for senior executives working with academic medical centers, healthcare networks and hospitals.
Terms of the transaction were not disclosed.
For reprint and licensing requests for this article, CLICK HERE.