Tishman Takes to Coworking
REAL ESTATE: Property owner tries Beverly Hills space
Friday, May 3, 2019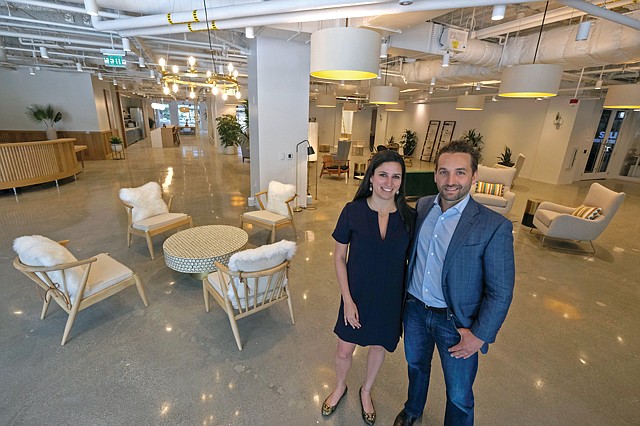 New York-based real estate giant Tishman Speyer Properties is bringing its coworking experiment to Los Angeles.
The firm launched its version of the popular shared office space concept in Beverly Hills May 3. Dubbed Studio, the coworking space occupies 36,000 square feet at Tishman Speyer's building at 407 N. Maple Drive.
"Coworking is a huge change to the market," said Paul DeMartini, a senior managing director at Tishman Speyer and the regional director for Southern California. "Flexibility is here to stay. It's a change in the market — it's not just for startups. We are a real estate company; we have to be able to adapt."
DeMartini added that running its own coworking space allows Tishman to "control the quality." He said it also allows the company to offer upgrades to dedicated office space at the property when a growing company that has leased coworking space there is ready to move on from a shared floorplan.
Thais Galli, a managing director at Tishman Speyer and head of Studio, said the Beverly Hills space could fit approximately 400 people.
Tishman Speyer first launched Studio in the famed Rockefeller Center in New York. It was 100% occupied within five months of opening.
Tishman Speyer is now extending its coworking concept to areas including Boston, Washington, D.C., and Brazil. Architecture firm Gensler is designing all of its coworking locations.
The company is also expanding Studio Private, which offers office suites on flexible terms.
What sets Studio apart from other coworking spaces is the number of office options, according to Tishman Speyer. While many coworking companies offer smaller office plans, the real estate company's Beverly Hills coworking outpost can accommodate up to 76 people — and Galli said there's room for even larger offices.
The larger coworking office layouts generally have a main room filled with desks and a side room or two for executive offices or group meetings.
Studio also has a film screening room and a music room that can be used for listening, editing and production.
The Beverly Hills location is 15% leased, according to the company.
New market
Studio is one of the first coworking locations in Beverly Hills, according to Tishman Speyer. Galli said the market was "underserved."
Other coworking companies are moving into the area, too. Earlier this year, WeWork Cos. Inc. announced a lease in Beverly Hills for 70,000 square feet at 9830 Wilshire Blvd. The space will open by the end of the year and can accommodate 1,100 members.
Prev Next
For reprint and licensing requests for this article, CLICK HERE.