Local Architects Design Malls for the World
Massive Costa Rica project follows Bellagio, Fashion Island designs
Friday, May 3, 2019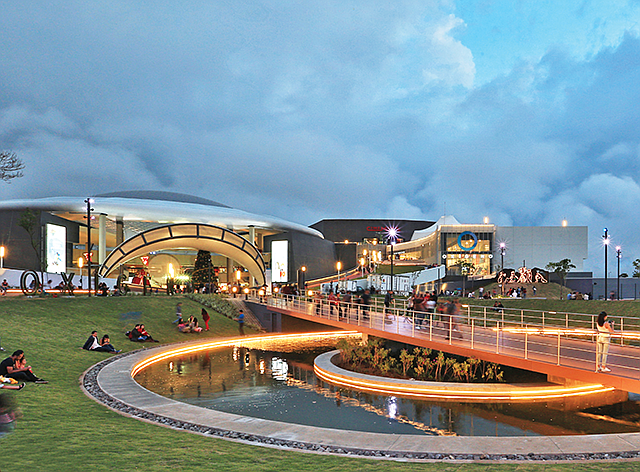 Malls are downsizing across the United States as consumers increasingly turn to ecommerce. But demand outside the U.S. hasn't waned for downtown-based mall architects Jerde Partnership Inc.
Jerde, which has designed millions of square feet of shopping centers overseas, recently completed a 1.56 million-square-foot center in the Costa Rican city of San Francisco de Heredia. The Oxigeno project has a 161,000-square-foot rooftop park, jogging track and 3,000-person event venue, Jerde said May 2. It was developed by Costa Rica-based Cuestamoras-Urbana Partners Alliance.
Eduardo Lopez, Jerde senior vice president of design and the project lead for Oxígeno, said the center was inspired by the inactive volcanoes near the site. "We looked at the local geography … to create a project that reflects the natural beauty of the mountains in the form of a modern building with a cloud on top," Lopez said in a statement.
Jerde also recently designed Moscow's Kashirskaya Plaza, a 2 million-square-foot retail center, and the Powerlong One Mall, a 1.3 million-square-foot complex that's part of a three-phase project in Xiamen, China.
In the United States, some of Jerde's well-known projects include the Bellagio in Las Vegas, Pacific City in Huntington Beach and the makeovers of Santa Monica Place and Fashion Island in Newport Beach.
• • •
Dedeaux Properties Buys Vernon Site
With its close proximity to downtown and other densely populated neighborhoods, the city of Vernon is an attractive location for industrial developers.
Commerce-based Dedeaux Properties, in a joint venture with Ledo Capital Group, is the latest company to expand its reach in that industrial market with the purchase of a 2-acre infill development site. The seller was not identified, and the deal's terms were not disclosed.
Construction on the site — at 3520 E. Vernon Ave. — is underway, and it has been preleased to an unnamed restaurateur that has several eateries in Southern California and New York. The planned industrial facility, which will be completed in 2020, will be nearly 47,000 square feet. It will have seven dock-high doors, one ground loading door.
Cushman & Wakefield's Brandon Gill, Brandon Burns and Jae Yoo represented Dedeaux. The tenant was self-represented.  
"As downtown gets redeveloped, a high volume of industrial tenants are relocating to Vernon, a user-friendly city that offers larger and more modern industrial facilities," Brett Dedeaux, president at Dedeaux Properties, said in a statement.
• • •
San Diego Coworking Company Expands in LA
For reprint and licensing requests for this article, CLICK HERE.
Prev Next