EVgo Energizes Surging Market
Tech: Firm's 129 LA stations charge cars in under an hour
Friday, May 3, 2019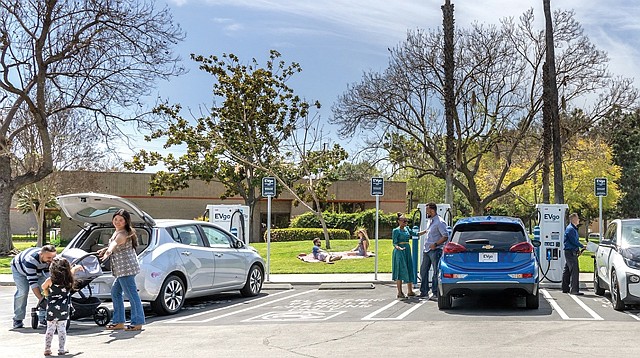 As more electric vehicles hit L.A.'s streets, Sawtelle-based EVgo Services is steadily expanding its network of pay-per-use charging stations where drivers can swipe a credit card to juice up their car batteries.
But EVgo's "fast" charges are a far cry from the five to 10 minutes most drivers spend at the gas station. The average electric vehicle reaches full charge in 45 to 60 minutes, according to Jonathan Levy, EVgo's chief strategy officer. "You charge the car while you're doing something else," Levy said.
Since its founding in 2010, EVgo has worked to court local governments and businesses to install charging stations where drivers expect to spend more than just a few minutes.
"If you go to Whole Foods — and you're going to go once a week anyway — you can get 90 miles of range while shopping," Levy said. "You might be done for your whole week depending on how much you drive."
The charging business is expanding at a steady clip. EVgo has installed 1,110 charging stations across the United States and has 129 in the Los Angeles metropolitan area. (By comparison, there are more than 2,100 gas stations in L.A., according to GasBuddy Organization Inc.)
EVgo recently installed a charging station at the Petersen Automotive Museum in Mid-Wilshire and broke ground on a charging station in Compton. It also has four chargers under construction in Inglewood.
A charge is born
EVgo says it's the nation's largest public network of fast-charging hubs. The company employs 100 people and works with a variety of contractors who construct the charging stations. It uses fast chargers built by Broadband TelCom Power Inc. and ABB Inc., Levy said.
EVgo's primary investor is Boulder,
Colo.-based Vision Ridge Partners, which has backed the company since its founding in 2010.
"Together, we are leading the industry in accelerating transportation electrification by providing reliable and convenient fast charging throughout California and across the country," Vision Ridge Partners Managing Director Reuben Munger wrote in an email.
Neither EVgo nor Vision Ridge would disclose how much the company has raised in funding. Levy said the company has no plans to raise more capital in the immediate future.
The company is not yet profitable, Levy said, partially because the cost of deploying and maintaining so many fast chargers is steep, and demand is still nascent. "You don't want to overbuild, which is a challenge," Levy acknowledged.
Still, EVgo has continued expanding, with a May 1 ribbon-cutting at a new location in Anaheim. Levy said the firm has "hundreds more" stations under construction.
"We're going to keep growing where cars are and where people need EV charging," he said.
In keeping with its efforts to place stations where drivers can run errands while their cars charge, EVgo has several locations in the parking lots of malls and public buildings.
The company has installed charging stations at multiple properties owned by West Hollywood-based ETC Real Estate Services Inc., part of an agreement with its president Tony Shooshani. The properties include the Hollywest Promenade shopping center in Hollywood and Venice Crossroads mini-mall.
EVgo also installed a charging station at the Playa Vista Community Center and at a public parking lot in Culver City at the request of each municipality. For the Compton project, the host is an electric vehicle driver who happened to own a parking lot and wanted to take advantage of fast-charging.
L.A. customers pay 27 cents a minute for each charge, which means a 45 minute charge can run $12.15. EVgo also offers an $8 monthly subscription that includes a reduced per-minute rate.
Future network
Given the anticipated expansion of the electric-vehicle market, EVgo is poised for growth.
JPMorgan Chase & Co. analysts estimated that in 2016, electric vehicles accounted for 1% of global market share, or less than 1 million cars. But by 2025, EVs are expected to total 7.7% of the market share, nearly 8.4 million vehicles, according to JPMorgan.
Hybrid vehicles that rely on electric power with a traditional combustion engine backup are more popular. The combined market for hybrid and electric vehicles will total 30% of the market share by 2025, JPMorgan predicts.
Meanwhile, public officials are pushing for adoption of zero-emission vehicles. Los Angeles Mayor Eric Garcetti on April 29 unveiled a plan to make the city 80% reliant on renewable energy by the mid-2030s. His plan included a goal of powering 80% of the city's vehicles with either zero-emission fuel or electricity within the same time frame.
"We … see this as a critical market thanks to Mayor Garcetti and various governors pushing the pedal to floor on electric vehicle adoption," Levy said. "We have plans to double our capacity by next year."
Stefan Krause, chief executive of Torrance-based electric vehicle manufacturer Canoo, said networks like EVgo's are important to manufacturers. Canoo plans to begin selling its cars by 2021, and Krause said those vehicles will rely on existing charging networks.
"In general, globally the charging network needs to be further developed for the amount of cars we have," Krause said. "Many cities and private firms are doing this and evolving quite nicely, but there's still more to do."
CORRECTION: An earlier version of this story, which ran in the May 6 issue and online, misstated the number of EVGo employees. The company employs 100 people in total and 75 in Southern California.
For reprint and licensing requests for this article, CLICK HERE.