GOING LONG
A tide of new development rises in Long Beach
Friday, March 22, 2019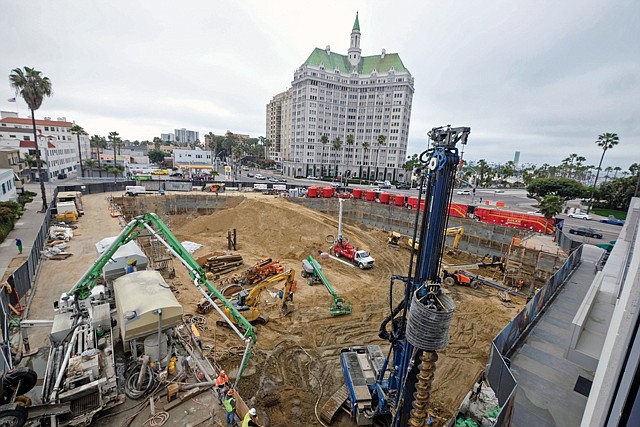 Real estate developers are plunging into the waterfront city of Long Beach where speedier approvals, strong demand and lack of rent control have opened the flood gates to residential and commercial projects.
In downtown Long Beach, there's $5 billion being invested in real estate development, and there's a total of 73 projects citywide either under construction or about to break ground, according to the city's Economic Development Department. The building boom includes roughly 5,000 housing units.
"Long Beach is really booming," Mayor Robert Garcia said. "It's the largest amount of development we've ever had."
Among the biggest plans for the city are a $520 million Civic Center with a new city hall, port offices, and retail and residential components, as well as updates to the Queen Mary, the vintage cruise ship docked at Long Beach's port. Last month, news broke that the city was in talks with Major League Baseball's Los Angeles Angels to move the team's stadium to Long Beach from Anaheim.
Alan Pullman, founding principal at Long Beach-based architecture firm Studio One Eleven, said a big reason for the city's growth spurt is its relative affordability.
"It was traditionally an old-world economy with manufacturing and the ports, but it is transitioning — as the overall economy is — into a bit of a hub for creative knowledge businesses, and it is relatively affordable for being on the water," Pullman said.
Affordable properties, rising rents
Long Beach is ideal, brokers and developers say, because property is more affordable than in many other coastal cities in Los Angeles County, and there are no restrictions on rental rates.
"It seems like there is more value there," said Kenny Stevens of real estate brokerage Compass.
Long Beach saw the fifth fastest rent growth in the nation, increasing more than 25 percent since February 2014, according to Apartment List Inc. data.
Mayor Garcia said there are no plans for rent control. Instead, the city is focused on tenant relocation assistance, he said.
Stevens, who sells multifamily properties in the $2 million to $8 million range, said clients who had previously been focused on L.A. are now expanding their portfolios into Long Beach. "Prices in Los Angeles have continued to increase to the point that investors are willing to look elsewhere, anywhere within an hour of Los Angeles," he said.
Other cities without rent control are more expensive than Long Beach, Stevens added.
It's also simpler to get approvals for development in Long Beach. A UC Berkley report comparing Santa Monica, L.A., Long Beach and Pasadena found that Long Beach had the fastest entitlement process at 10.5 months while projects in Santa Monica took 48 months to entitle.
"The city has a master plan, an easy approval process, and the demand is strong," said Jones Lang LaSalle Inc. Managing Director Jason Fine. "There are more people investing in the residential piece because it is doing so well here."
The city has already done some environmental reviews in the downtown area, which has allowed more certainty for developers entering the market.
Jason Silver, director of development at Ledcor Properties Inc. said the city's downtown master plan has "provided great certainty to the entitlement process with projects in the downtown area."
Ledcor is working on one of the biggest projects, Shoreline Gateway, with Anderson Pacific and partners Qualico Developments Inc. and Lantower Residential. Once completed, in the second quarter of 2021, it will have 315 luxury apartments near the ocean. Silver said he is currently looking at two additional opportunities for ground-up development in Long Beach.
Local concerns
Some locals have expressed concern about the development boom in Long Beach, which is certain to drive up rents downtown and could force some longtime residents to relocate to more affordable areas.
There are currently seven affordable housing projects planned for the city, according to the city's Economic Development Department. Sergio Ramirez, the agency's deputy director of economic and property development, said the city was trying to get roughly half of its development projects to be affordable housing.
The development also raises logistical issues for residents who stay. "It has gotten worse in terms of finding a place to park once you're here," said Jim Goodin, president of the Ocean Residents Community Association.
Goodin said he's glad to see new buildings going up in previously empty lots, and he's happy about having more options for dining. But he's worried about the possibility of a Major League Baseball stadium in his backyard.
Residential drives office
The boom in residential development is underway largely in response to a severe shortage of housing in California and pent-up demand from a lull in development during the recession years, Anderson Pacific Executive Vice President Ryan Altoon said.
But there's also a rising tide of office development, alongside the residential component, in Long Beach.
"You tend to see a younger population down there in terms of the residents," said CBRE Group Inc. Senior Vice President David Smith. "They want more than just an old-school office with a desk and some chairs and a phone."
Some older office buildings have been converted into creative office space.
Creative office spaces in the city include The Hubb, which Redwood Partners bought last year for $60.5 million, and One World Trade Center, which has recently announced a flurry of new leases after a $25 million renovation that included some creative office aspects.
Technology company Laserfiche is expanding its headquarters, adding a large creative office campus in Long Beach. Urbana Development is the developer for the project, and Studio One Eleven is the architecture firm. The project will break ground in July, and the company plans to occupy the building at the beginning of 2021.
Laserfiche Chief Executive Chris Wacker said the company wanted a bigger, more collaborative headquarters and to stay in Long Beach, which allowed the company to take advantage of the workforce coming from both Los Angeles and Orange counties. Long Beach's growing residential sector is also helping attract talent.
"The cost of real estate in this area is lower than in the south or in the north. That's another incentive to attract talent," Wacker said.
For reprint and licensing requests for this article, CLICK HERE.