Speakeasy Spaces
Workplace amenities shift away from foosball tables, toward cocktail lounges
Friday, March 15, 2019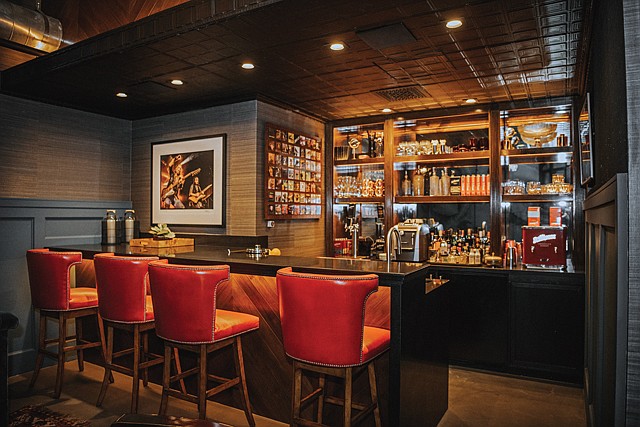 Los Angeles has long been infatuated with the retro cool and exclusivity of hidden bars and speakeasies, periodically discovered and revealed in tourist guides or top 10 lists. But the speakeasy has found a new secret location of late: the office.
Unlike during the Prohibition era, liquor is legal in 2019, so there's no longer a need to hide out in basements and back rooms during happy hour. But businesses adding cocktail lounges to their workspaces find the cachet of exclusivity adds to their appeal.
Mid-Wilshire entertainment marketing agency Mob Scene, the Century City office of law firm Sidley Austin, and Open Road Entertainment in Burbank all have what they describe as speakeasies on the premises.
Perhaps more apropos, Stillhouse Spirits Co.'s headquarters in the Beverly Grove neighborhood also features a speakeasy space. Chief Executive Brad Beckerman said at the company's "creative center" — he wouldn't call it an office — the speakeasy sets the right tone for the workplace, both day to day and when Stillhouse is hosting visitors from the Hollywood set.
"We are in the business of lifestyle," Beckerman said in an email.
For most companies, the speakeasies aren't there to promote an alcohol brand or encourage drinking, but instead they represent a trend toward in-office entertaining, a more convenient option than braving L.A.'s evening rush hour to meet colleagues or clients at a bar or restaurant.
At Sidley Austin's Century City office, the firm keeps its secret lounge locked except during client events and staff parties. The firm installed a whole vintage bar in one room of the office suite, but it was so large the ceiling had to be raised to make space for it.
Some company executives said office speakeasies are there more as a conversation piece or ice breaker, not as a place to imbibe alcohol. Open Road's bar is stocked with soft drinks, not beer, wine or hard liquor, and serves as the location for production meetings, birthday parties and Friday night pizza gatherings.
Open Road Chief Executive and co-owner Alan Baral called the room a "set piece" rather than a working watering hole.
Indeed, the bar is actually a piece of showbiz history. Open Road occupies a building formerly owned by the late entertainer and mega-producer Dick Clark. Baral said Clark acquired a vintage pub bar in Ireland, and had it shipped and reassembled at the office. A subsequent owner kept the bar intact, as did Open Road when the company moved in about six years ago. The quirky decor of Clark's personal office, which he had decorated like an old British apothecary, has also been preserved.
Baral said the pub room is in keeping with the building's Tudor style. "A lot of our (entertainment industry) competitors are in these large, glass and steel buildings," he said. "This has a homey, old-fashioned appeal. We dig it."
Mob Scene Chief Executive Thomas Grane said his company went the other way, creating a more modern-day speakeasy. He said the design was inspired by another office speakeasy he'd seen at an animation company. The Mob Scene watering hole is hidden behind a janitor's closet.
For a company called Mob Scene, having a speakeasy was a no-brainer, Grane said. The staff nicknamed the bar "Luca's" after a famous line from "The Godfather." It's an old Sicilian message, one of the film's characters explains, "Luca Brasi sleeps with the fishes."
The closet isn't locked, but the speakeasy is. "It's not something that's open for employees to be going in and drinking," Grane said. "We'll have our fantasy football draft in there, or sometimes a going-away party for an employee."
Scott Hunter, principal and Pacific regional director for HKS Architects Inc., a multinational architecture firm with local offices in Westwood, said that with or without alcohol, the speakeasy atmosphere within an office may gain appeal as millennials enter their 30s and 40s.
"There was a trend toward pingpong tables and foosball tables" a decade ago, he said, adding that this may be "a signal of a shifting demographic away from the right-out-of-college (mentality) toward a maturing workplace."
And whether it's foosball or cocktails, Hunter said the trend toward in-office entertaining is probably here to stay.
"I think having hospitality spaces within your office space (represents) the blending of work and life," he said. "You spend so much time at the office, you want to feel comfortable.
For reprint and licensing requests for this article, CLICK HERE.