Faraday Future Selling Las Vegas Plant for $40M
Wednesday, March 13, 2019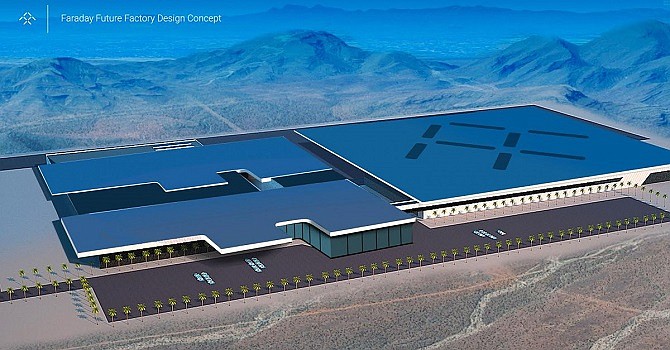 Embattled downtown-based electric car designer Faraday & Future Inc. is selling the 900-arce parcel of land at the Las Vegas Apex Industrial Park it purchased in 2015 with plans to construct a $1 billion vehicle factory.

The factory was never completed, though the site remains partially improved.
The site is listed for $40 million, according to Cushman & Wakefield.
In a March 13 press release, Faraday Future said its "operation strategy has changed since the 2015 purchase" and will move its proposed manufacturing facility to a site it owns in Hanford, Calif. Construction on the Hanford site began in 2017.
At the time of the Apex Industrial Park purchase, Faraday Future told the City of North Las Vegas the factory could bring more than 13,000 jobs to the area.
"(Faraday Future) is appreciative of the City of North Las Vegas and its partners in Nevada for their continued support throughout this process," the company press release noted.
Faraday Future also said it plans to "raise substantial capital in 2019" and bring an electric vehicle to market, which it has not yet achieved.
Tech reporter Samson Amore can be reached at samore@labusinessjournal.com or (323) 556-8335. Follow him on Twitter @samsonamore.
For reprint and licensing requests for this article, CLICK HERE.