Brookfield to Buy Majority $4.7B Stake in Downtown-Based Oaktree Capital Management
Wednesday, March 13, 2019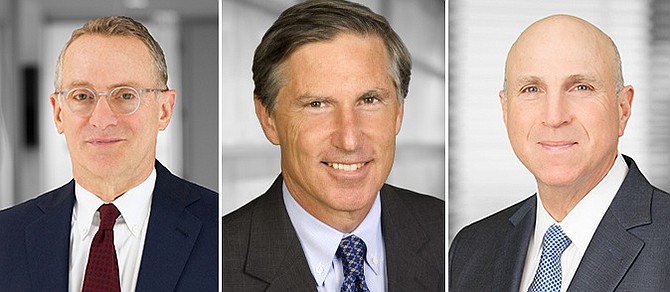 Downtown-based Oaktree Capital Group has sold a 62 percent stake valued at $4.7 billion in its global asset management firm to Brookfield Asset Management Inc., a Toronto-based alternative asset management company.
Brookfield will pay $49 in cash for each unit of Oaktree stock, or offer 1.077 Brookfield shares per Oaktree unit, at the election of Oaktree shareholders.

The initial transaction will require $4.7 billion to be paid to Oaktree holders, funded with 50 percent cash and 51.4 million shares in Brookfield, according to a statement released by the two asset management giants on Wednesday.
The transaction is expected to close before Sept. 30, 2019.
The combination of Brookfield, which has focused on real estate, with Oaktree, which specializes in distressed debt, would create a behemoth that would put it in the same league as the larger New York-based Blackstone Group, long seen as the world's largest alternative money manager with $472 billion in assets under management.
Holders of Oaktree Capital Group, including its founders and certain members of management and employees, will remain 38 percent owners of Oaktree, the statement said.
Spokeswomen with the two companies were not immediately available for comment on the acquisition.
Howard Marks will continue as co-chairman of Oaktree, Bruce Karsh as co-chairman and chief investment officer, and Jay Wintrob as chief executive officer. Marks and Karsh, who founded Oaktree in 1995, will continue to have operating control of Oaktree as an independent entity for the foreseeable future, the statement added.
In addition, Marks will join Brookfield's board of directors.
The combined companies together will have $475 billion of assets under management and $2.5 billion annual fee-related revenues, making the entity one of the leading alternative asset managers. Of the total assets of the combined entity, Brookfield reported $355 billion and Oaktree reported $120 billion.
"Our firms share a culture that emphasizes both investing excellence and integrity, and businesses mesh without overlapping or conflicting," said Marks in the statement.
Under the terms of the deal, Brookfield could take over full ownership of Oaktree by 2029.
Others that compete in this sector include Century City-based Ares Management Corp ., which has $131 billion in assets under management; Washington, D.C.-based Carlyle Group, with more than $200 billion in assets under management; and, New York City-based KKR & Co., with nearly $150 billion in assets under management.
Finance reporter Pat Maio can be reached at pmaio@labusinessjournal.com or (323) 556-8329.
For reprint and licensing requests for this article, CLICK HERE.