PUSHING FOR PERFECTION
BUSINESS LEADERS OF THE YEAR
Friday, March 8, 2019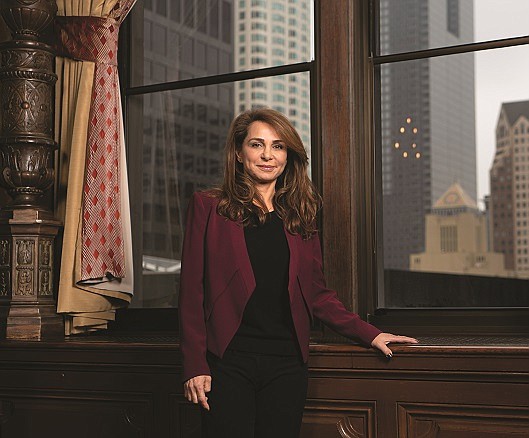 She saw huge protests against the reign of the shah, commotion in the streets and the beginning of the diplomatic standoff between Iran and the United States, when 52 American diplomats and citizens were held hostage for 444 days.
That standoff prompted her to flee the country in 1979 to escape the tumultuous environment with the aid of her family.
She flew out of Tehran aboard a commercial airline, landed at John F. Kennedy International Airport in New York, and disembarked carrying two suitcases stuffed with clothing and photographs of her parents, family and friends. From there, a friend of her father's drove her to Williams College, a private liberal arts college in Williamstown, Mass., where she obtained a bachelor's degree in business management four years later.
Talking with her parents was difficult as telephone connections were spotty. "No young woman should have to go through this," the 57-year-old Ardalan said in an interview. She still has a brother in Southern France, but another died — something she prefers not to discuss. "It was the most difficult thing that I've ever had to go through in my life," she said.
"It was scary," Ardalan said of the Iranian Revolution. "I matured a lot faster. I really don't want anyone feeling that way."
The experience, Ardalan said, is one of the reasons why she mentors other young female executive recruits.
"It takes perseverance," she said. "I was here alone. I had to make it work in so many different ways. It made me become well-rounded. It definitely made me stronger.
"What I tell young women is that it starts with listening," she added.
Banking roots
After graduating from Williams, Ardalan spent a year at an international bank working on an H-1 visa, which permits employers to temporarily employ foreign workers in specialty occupations. She got hooked on banking and later received a green card to permit her to live and work permanently in the United States, and ultimately became a U.S. citizen.
Ardalan's second job after graduation was with San Francisco-based MUFG Union Bank, where she's been for the past 33 years.
Ardalan's first gig with the bank was a management training program — in what she claims was the best of its kind located west of the Mississippi River.
She's had seven promotions since then and now runs Union Bank's commercial bank lending arm. She heads commercial banking in the western markets, and runs business banking and Small Business Administration units as well. ...story continues on next page
For reprint and licensing requests for this article, CLICK HERE.