PUSHING FOR PERFECTION
BUSINESS LEADERS OF THE YEAR
Friday, March 8, 2019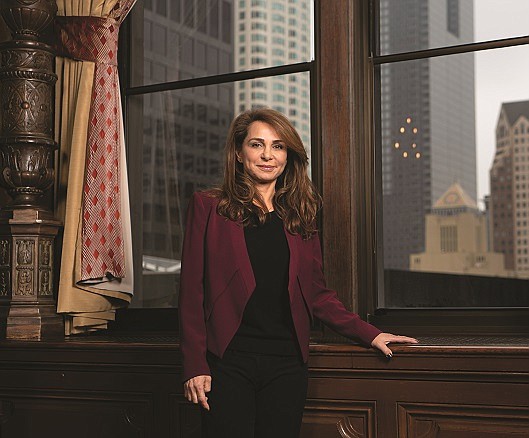 Bita Ardalan, managing director and head of commercial banking for MUFG Union Bank in California and the Pacific Northwest, is known as a go-to executive who can run and build complex businesses while staying ahead of evolving markets.
That reputation has been built over 33 years at the financial institution, where she's been an integral part of Union Bank's rise in the Southern California market.
Today, she has seven executives who report to her directly, who in turn have 150 direct staff and 250 support workers up and down the West Coast.
Before her current post, she headed the bank's middle-market lending for the United States market. She founded in 2010 the bank's national specialized lending group where she oversaw the sales, marketing and credit management of several of the bank's fastest growing specialties, and for many years she was the commercial banking market president for the Los Angeles region.
Under Ardalan's leadership, Union Bank has increased lending at a faster pace than its peers, even as commercial loan demand has been tepid in recent years. "We are growing faster than the industry," she said.
Ardalan also has built a niche business line lending to middle-market private equity groups.
Her most recent promotion in 2015 was into a newly created role in which she oversees all business lending for companies with revenues between $10 million and $2 billion.
Ardalan said her management style is to lead by example, and she pushes herself and her teams to be better each day.
"I am very driven, have high expectations and (am) known as a very fair leader," she said. "I set a good example with my work ethic and collaboration, to ensure we are a collaborating and a trusting team. A culture of high achievers and supporting each other — that makes a team successful."
This mentality has imbued the commercial banking team at Union with an entrepreneurial streak.
"Some of this is innate," Ardalan said. "This has propelled our banking, and our team looks at any obstacle head on, and finds solutions to the problem."
Personal perspective
Ardalan learned quickly at 17 years old how to trust and lean on others for support in tough times — good qualities for a corporate chief.
These lessons came four decades ago as a result of her upbringing in Tehran, Iran, where she had front row seats to the 1979 Iranian Revolution and the country's transition to an Islamic Republic. ...story continues on next page
She saw huge protests against the reign of the shah, commotion in the streets and the beginning of the diplomatic standoff between Iran and the United States, when 52 American diplomats and citizens were held hostage for 444 days.
That standoff prompted her to flee the country in 1979 to escape the tumultuous environment with the aid of her family.
She flew out of Tehran aboard a commercial airline, landed at John F. Kennedy International Airport in New York, and disembarked carrying two suitcases stuffed with clothing and photographs of her parents, family and friends. From there, a friend of her father's drove her to Williams College, a private liberal arts college in Williamstown, Mass., where she obtained a bachelor's degree in business management four years later.
Talking with her parents was difficult as telephone connections were spotty. "No young woman should have to go through this," the 57-year-old Ardalan said in an interview. She still has a brother in Southern France, but another died — something she prefers not to discuss. "It was the most difficult thing that I've ever had to go through in my life," she said.
"It was scary," Ardalan said of the Iranian Revolution. "I matured a lot faster. I really don't want anyone feeling that way."
The experience, Ardalan said, is one of the reasons why she mentors other young female executive recruits.
"It takes perseverance," she said. "I was here alone. I had to make it work in so many different ways. It made me become well-rounded. It definitely made me stronger.
"What I tell young women is that it starts with listening," she added.
Banking roots
After graduating from Williams, Ardalan spent a year at an international bank working on an H-1 visa, which permits employers to temporarily employ foreign workers in specialty occupations. She got hooked on banking and later received a green card to permit her to live and work permanently in the United States, and ultimately became a U.S. citizen.
Ardalan's second job after graduation was with San Francisco-based MUFG Union Bank, where she's been for the past 33 years.
Ardalan's first gig with the bank was a management training program — in what she claims was the best of its kind located west of the Mississippi River.
She's had seven promotions since then and now runs Union Bank's commercial bank lending arm. She heads commercial banking in the western markets, and runs business banking and Small Business Administration units as well. ...story continues on next page
"It's been a good marriage," Ardalan said.
In her role as head of commercial banking for California and the Pacific Northwest, she shuttles between her Union Bank office downtown and one in Woodland Hills. She also travels among the 21 regional offices in the Western United States multiple times during the year.
MUFG Union Bank, which is the $131 billion-in-asset U.S. banking arm of Japanese holding company Mitsubishi UFJ Financial Group Inc., has 352 branches in California, Washington and Oregon.
The commercial banking segment reported roughly $43.1 billion in commercial and corporate loans in 2018.
Customer focus
A big emphasis at Union Bank is customer service, Ardalan explained, and one leader she said she emulates is Amazon.com Inc. Chief Executive Jeff Bezos.
At an internal Union Bank leadership conference held last fall for more than 250 of the bank's executives in Scottsdale, Ariz., a former senior executive from Amazon delivered his take on the formula for running a successful business in a motivational speech.
"One thing that we learned is how customer obsessed he's taken the business," said Ardalan of Bezos.
"If the customer is always first, and you think how you can help the customer, and how you address their concerns — this is what propels the business forward," she said. "That is the model we emulate."
Ardalan describes today's commercial lending market as tough with intense competition. While demand is soft industrywide, Ardalan said MUFG Union Bank continues to reach higher record benchmarks in terms of volume, credit quality and production.
"We punch above our weight," she said.
She said the business challenges, collegiality and teamwork, and focus on serving customers are big reasons why this is only the second company that Ardalan's ever worked.
"One of the reasons I stayed with the organization is its sterling reputation," she said.
For reprint and licensing requests for this article, CLICK HERE.