BUILDING LEGACY
Business Hall of Fame
Friday, March 8, 2019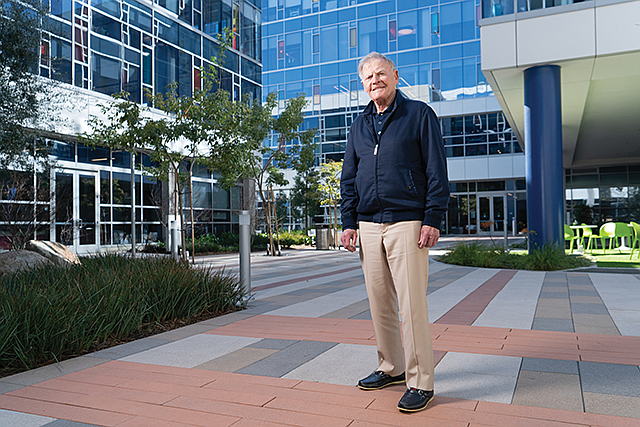 Jerome Snyder founded his eponymous development company J.H. Snyder Co. 70 years ago and he is blunt about how long he plans to keep building homes and high-rises.
"Until they put me in the ground," Snyder said in a recent interview at his office in the SAG-AFTRA building on Wilshire Boulevard. "I love coming to work."
This forthright mentality is an integral part of what made Snyder one of Los Angeles' most successful developers and a pillar of the business community. He has developed tens of thousands of single-family homes and condos, and millions of square feet of Class A office space, including the Wilshire Courtyard buildings and the SAG-AFTRA Plaza at Miracle Mile, as well as the Water Garden complex in Santa Monica.
"He's a landmark in the L.A. real estate market, a deal-maker who is still going strong," said Patrick Church, a managing director at Jones Lang LaSalle Inc., who has leased a handful of Snyder projects. "Whether he is building an office building or multifamily, whenever he puts his shovel in the ground, you know the product that will be delivered will be Class A superior projects."
Snyder's reputation for quality builds is matched by what peers said is a reputation for thinking outside the box and taking a holistic look at the market when making development decisions.
"Jerry is one of the brightest developers; he's iconic in this industry," said David Irmer, president and founder of the Innisfree Cos., based in Sausalito.
Irmer — a close friend, frequent travel partner and best man at Snyder's wedding — said that there's a visionary quality to Snyder's projects.
"He has a sense of design, of style," Irmer said. "He takes a look at a piece of real estate, and he can dream, he can envision life on that site and what it should be."
Irmer added that it was Snyder's knowledge of different areas of the real estate business that have made him so successful.
"I've been in the business for 57 years, and I've known Jerry since 1972," he said. "I don't know anybody in this industry with more forethought, foresight, vision, sense of design … than Jerome H. Snyder. He is the best. He works so well with architects, structure engineers, land planners — he guides and directs these people. He is a facilitator, he is an encourager. He brings out the very best in his design team because he knows what he's talking about."
Early development
Snyder got his start in real estate at an early age, working with his father who was a carpenter and contractor after he left the Navy as a teenager. That arrangement didn't work out for long — his dad wouldn't pay him — and he quickly bought a truck and went into business for himself doing remodeling work.
"Since I was a 19-year-old blonde kid, who would give me a job?" Snyder asked. "I named my company L. Snyder & Son. Everybody thought there was a father somewhere."
He founded J.H. Snyder Co. in 1949 and has served as the company's senior partner since.
Snyder's big break came soon after in the form of an 80-home project in Orange County and, riding a wave of residential development in the 1950s, he was suddenly building 2,000 houses a year at age 22.
For a look at some of Snyder's work, see SNYDER SHOWCASE
Snyder quickly expanded from Orange County up to the San Fernando Valley and then nationally. During the next 20 years or so, Snyder built 35,000 to 40,000 homes, condominiums and rental units.
Snyder slowly moved into commercial real estate starting in the late 1970s and has become one of the more prominent commercial developers in Los Angeles.
His first foray into commercial real estate was what is now known as the SAG-AFTRA building at 5757 Wilshire Blvd. The 11-story, 548,000-square-foot office building — which also has 28,000 square feet of restaurant and retail space — serves as J.H. Snyder Co.'s headquarters. Snyder purchased the building in 1978 and remodeled it. It was previously home to Prudential Insurance Co.
Across the street from SAG-AFTRA, Snyder built the 1-million-square-foot Wilshire Courtyard complex in 1987. The complex has two Class A office buildings. It is home to International Coffee & Tea, which does business as Coffee Bean & Tea Leaf, and Hollywood Reporter, among other tenants. Snyder no longer owns the building. The current owner, Tishman Speyer Properties, is in talks to sell the building to Onni Group of Cos. Ltd. for approximately $630 million, according to sources close to the deal.
Pet projects
Snyder always says his favorite project is the next one, but when pressed he lists the Water Garden and the River at Rancho Mirage as two of his all-time favorites.
The Water Garden is a 17-acre campus in Santa Monica with tenants that include City National Bank and Wells Fargo Capital Finance Inc. and the River is a shopping center in Rancho Mirage with tenants that include Forever 21 Inc., Verizon Communications Inc. and Yard House USA Inc.
Carl McLarand, chairman and chief executive of Irvine-based MVE + Partners Inc., said that Snyder always gets the best from the people he works with.
"It's sometimes turbulent, but it's always productive," he said. "We've learned to work together and develop quality stuff together. We've developed a long-term working relationship that has spanned well over 30 years."
McLarand has worked with Snyder on a handful of projects, including the Wilshire Courtyard and Water Garden projects. He is currently working on the under-construction Wilshire Curson with Snyder. The project will have 285 apartments in Miracle Mile.
Construction boom
Two of Snyder's other more recent projects are Hollywood 959 and 1601 Vine. Hollywood 959 caters to entertainment companies, and 1601 Vine houses creative office space leased to WeWork Cos. Inc.
Snyder said the construction boom in Los Angeles has been noticeable, and he believes it is partially driven by the recent expansion by big tech companies into the region — an observation backed up by data.
"Now that we are getting these Google types down here, it makes a big difference," he said.
In the fourth quarter of 2018 alone, 2.6 million square feet of office space was under construction, according to JLL data, which has driven up construction costs. JLL also found that building costs nationwide increased by 3.4 percent in 2018.
Snyder said he has been somewhat insulated from rising construction costs because J.H. Snyder Co. does its own construction.
"We have a following of subcontractors and material suppliers who have been good to us," Snyder said. "We've been able to keep our costs under control."
Doing construction has also helped Snyder get a handle on costs early-on in the design process.
"We don't get a big surprise at the end of the day and get some big number that makes the project unworkable," Snyder said.
For reprint and licensing requests for this article, CLICK HERE.