ELEVATING ELECTRIC
Ampaire takes battery revolution skyward
Friday, March 1, 2019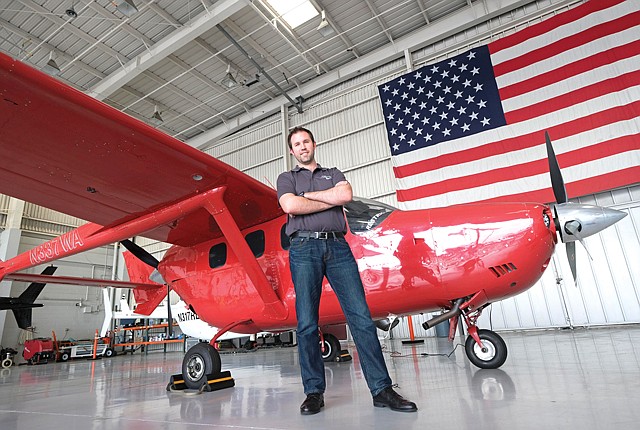 With their reputation as the noisiest and most fuel-guzzling mode of travel, airplanes have long been a ripe opportunity for electrification. But until recently, battery and energy storage technology had not yet advanced far enough to make electric-powered air travel practical.
In the last few years, however, that has changed, and now several companies and inventors are racing to produce fully electric and hybrid electric short-haul aircraft. Among them is Ampaire Inc., now based in an aircraft hangar at Hawthorne Municipal Airport, having moved last month from the Los Angeles Cleantech Incubator campus in downtown.
Ampaire was founded three years ago by former Northrop Grumman Corp. engineers Kevin Noertker and Cory Combs, and marketing/finance executive Ryan Bilton, and has brought on board engineers from Hawthorne-based Space Exploration Technologies Corp. (SpaceX) and Virgin Orbit, the Long Beach subsidiary of London-based Virgin.com Ltd.
Noertker said, so far, Ampaire has received about $4 million from angel investors, an undisclosed amount from other investors such as Kona, Hawaii-based Mokulele Airlines, and additional grants from nonprofits such as Honolulu-based Elemental Excelerator.
"We have been looking for companies that can address decarbonization in the aviation industry," said Aki Marceau, portfolio manager for mobility at Elemental.
The company is developing two electric-powered planes: a hybrid fuel-electric plane it hopes to get certified late this year or early next year by the Federal Aviation Administration and a fully electric plane that is still a few years away from flight.
Noertker, Ampaire's chief executive, said the company has received letters of interest from about a dozen airlines and aircraft operating companies in the short-haul commuter market. The main pitch, he said, is lower, less variable costs than conventionally fueled aircraft, whose operating costs are closely tied to volatile fuel prices.
"The biggest advantage of electric or hybrid electric engines is decreased operating cost," Noertker said. "The engines have fewer moving parts, require much less maintenance and don't rely on the vagaries of jet fuel prices.
"These engines also produce much less noise, so the aircraft would not disturb as many airport neighbors. And they sharply reduce carbon emissions," he added.
Island-hop market
Noertker said the main flight market is airlines with regional routes, such as "island-hopper" services in Hawaii and flights of up to 400 miles in and around California.
One airline that has expressed interest in Ampaire's electric engines and invested an undisclosed sum in the company is Mokulele Airlines. Founder and President Rob McKinney said he hopes to retrofit several existing nine-seat Cessna Caravan planes with Ampaire electric engines once Ampaire gets FAA certification.
"We are big fans of what Ampaire is trying to accomplish," McKinney said. "The ability to get out from under fluctuating fuel prices would be a game changer for us."
McKinney said he wants to start replacing conventional engines as they come due for their periodic overhauls, usually after about 500 to 1,000 hours of flight service. He said overhauling a conventional engine generally costs about $300,000; he expects that an Ampaire electric engine would cost about twice as much to install but would reap savings in fuel prices and maintenance costs within a year or two of service.
Hybrid engine
Ampaire, which has 14 employees, is currently focused on retrofitting a two-engine plane as a hybrid-electric aircraft with the plane's rear engine converted to electric and the other remaining conventional. Noertker likens the retrofit approach to that of Tesla Roadster, referring to the first all-electric vehicle developed a decade ago by Tesla Motors (now Tesla Inc., of Palo Alto) using the Elise chassis by Group Lotus, of Norwich, United Kingdom.
"Retrofitting an existing plane is the faster and easier way to develop a viable electric plane," Noertker said.
Ampaire is also developing an electric-only aircraft from scratch; it now only exists as a foot-long model in an upstairs office in the company's aircraft hangar headquarters and won't be ready for testing for several more years. It is this version Noertker said will realize the full benefits of electrified air travel: very low carbon emissions (only from the production of electric power used for the batteries) and elimination of noise from jet engines.
Several other companies are also in the race to put into the air viable electric-powered aircraft, most notably Zunum Aero Inc., of Kirkland, Wash. – which is backed by Chicago-based Boeing Co. and New York-based JetBlue Airways Corp. – and Los Angeles-based Wright Electric, backed by London-based EasyJet Airline Co. Ltd. Zunum has been working on a 12-seat hybrid electric aircraft and is aiming for introduction within the next two years; Wright is taking a longer approach, looking to get a 120-seat all-electric plane certified by late next decade.
Weight problem
All of these efforts have to overcome a key obstacle: the low energy density of batteries when compared with an equivalent weight of jet fuel.
"Petroleum products to date have yielded five to six times the energy per pound as electric batteries," said Edward Story, a local general aviation activist who sits on the boards of the California Pilots Association and the Santa Monica Airport Association.
That means electric-powered aircraft must carry large and weighty battery packs, which limit both lift and efficiency in flight. "With aircraft, every pound becomes critical. Anything that can be done consistent with safety to reduce the weight of an aircraft is essential," Story said.
Noertker and Story both said recent technological breakthroughs have improved the power density of batteries, shaving off some crucial pounds from the battery packs.
Another obstacle has been the difficulty in getting FAA certification. The agency issued its first guidelines for certifying electric-powered aircraft just two years ago, according to Elemental Excelerator's Marceau. Without certification, electric-powered aircraft would be banned from flying.
Even with all these developments, Ampaire has not progressed as fast as Noertker and the other company co-founders had hoped it would when they started the company three years ago. The original goal was to have a retrofitted electric-powered aircraft received FAA certification by the end of last year; that has now slipped to late this year or early next year.
Noertker said some of the delay has been due to the complexity of developing a hybrid power system, integrating both the gas-powered and the electric-powered engines. Also, the FAA issued its certification guidelines a few months later than expected, according to Combs, Ampaire's co-founder and chief technology officer.
For reprint and licensing requests for this article, CLICK HERE.