Umpqua Focuses on Organic Growth
SPECIAL REPORT: BANKING AND FINANCE
Friday, June 21, 2019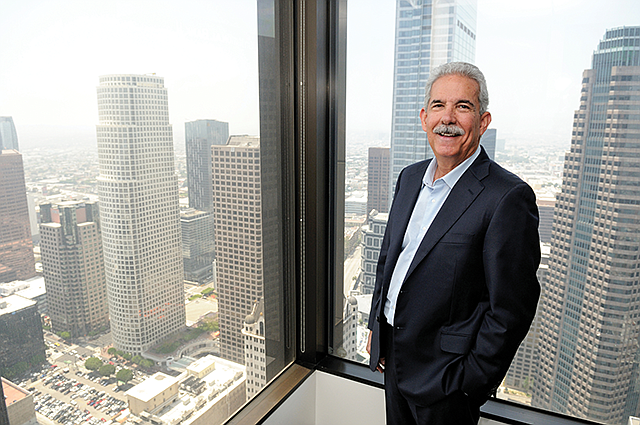 In early 2013, banking veteran Gil Dalmau was assigned by Spokane, Wash.-based Sterling Bank to build out a presence in the Los Angeles market from scratch.
He hired three other commercial lenders to establish branches in Glendale, Oxnard and Encino. Then the bank took a big leap, announcing in April 2013 the purchase of the $243-million-in-asset, Newport Beach-based Commerce National Bank. The deal gave Sterling the beginnings of a commercial business in Southern California.
But soon after the Commerce National buy, a much larger deal took the focus off the bank's Southland expansion plans.
Umpqua Holdings Corp., the Portland, Ore.-based parent of the $27.4-billion-in-asset Umpqua Bank, decided to purchase Sterling in September 2013. The move created a regional banking behemoth that had more than $22 billion in assets at the time and approximately 400 branches stretching across California, Idaho, Nevada, Oregon and Washington.
While Dalmau's SoCal buildout continued — a Torrance branch was opened in 2015, and SoCal operations were established in early 2018 in downtown's 62-story Aon Center — acquisitions have been put on hold in favor of a slower growth strategy.
"To go out and buy a bank is tough to fit here," Dalmau said, noting that Umpqua has hit the pause button on all acquisitions, not just those in the L.A. region.
Umpqua's greater Los Angeles holdings are approximately $1.3 billion in loans and $750 million in deposits. The bank had also expanded in Orange and San Diego counties. Umpqua employs roughly 50 bankers in the greater L.A. region.
The regional expansion is something of an anomaly for Umpqua. After an aggressive expansion that included the purchase of 15 community banks between 1999 and 2013, the company has turned to organic growth and other locally-focused strategies. The Sterling acquisition was the last bank purchase made by Umpqua.
New strategies
In an interview with the Business Journal at Umpqua's downtown regional headquarters, Dalmau, the bank's executive vice president and Southern California market leader, said its approach in the region is to build out its middle-market commercial and industrial lending lines. It's focusing on businesses with annual revenue in the $25 million to $250 million range. Other initiatives include hiring more wealth managers for its 2-year-old private banking business and finding ways to boost its international trade lending business.
Umpqua has found some success in particular niches as well, including funding infrastructure projects at Southern California private schools and offering commercial banking services to waste management companies. Dalmau said Gene Dunford, Umpqua's senior managing director and senior vice president in downtown, and Richard Cabrera, head of the bank's corporate banking division, have been a big part of these initiatives.
Umpqua has also leaned on Tory Nixon, a former football cornerback for the San Francisco 49ers and San Diego State University, who built a post-football career as division president for the San Diego and Northern California divisions of California Bank & Trust from April 2007 through November 2015. He then joined Umpqua.
Nixon said the bank's commercial and industrial lending in Los Angeles have been two of Umpqua's highest activity business lines companywide.
"There is opportunity to expand," said Nixon.
"I can never say 'never,' but we are not looking to acquire," Nixon said, noting that the bank has moved on from its acquisitive position.
Umpqua once had greater plans for growth in California but was foiled by Beverly Hills-based PacWest Bancorp, the parent of the $26.3-billion-in-asset Pacific Western Bank.
In 2012 — before it purchased Sterling — Umpqua made an offer for San Luis Obispo-based American Perspective Bank but was outbid by the ever-acquisitive PacWest, which continues to be a rival for Umpqua in the Southern California commercial lending space.
"When I came (to Umpqua), the decision was made to stop acquiring pieces and focus more on organic growth and alignment of our resources, people and complete the integration of our systems," Nixon said.
Future focus
Dalmau and Nixon said Umpqua's next expansion push could focus on private wealth management in L.A.'s South Bay coastal communities, West L.A. and the Inland Empire.
"We have so much opportunity to grow and operate efficiently," Nixon said.
Outside of Southern California, Umpqua may continue to trim its footprint, according to analysts. There are 38% fewer Umpqua branches today in the same geographic footprint than there were in 2013.
In late 2017, the Oregon company launched its so-called NextGen 2020 initiative aimed at boosting profitability by 2020. The NextGen plan includes a mix of technology upgrades, expansions in fee-based lines of business and an emphasis on corporate banking.
David Chiaverini, a New York-based banking analyst with Wedbush Securities Inc., said Umpqua is on track to cut expenses.
"As part of this plan, Umpqua said it would close 100 branches, and they closed one-third in 2018, a third in 2019," said Chiaverini, who noted that many expect Umpqua to close another 30 branches or so by 2020.
"Most banks are consolidating branches rather than opening. It sounds as if the expansion we're seeing in SoCal is coming more on the commercial side, not consumer side — and the commercial side doesn't need much real estate," Chiaverini said.
"They've been happy to do everything organically."
CLARIFICATION:
An earlier version of this story implied that Umpqua was closing branches in Southern California. The bank is closing branches in other markets.
For reprint and licensing requests for this article, CLICK HERE.