Rich Branning
20 in their 20s
Monday, June 17, 2019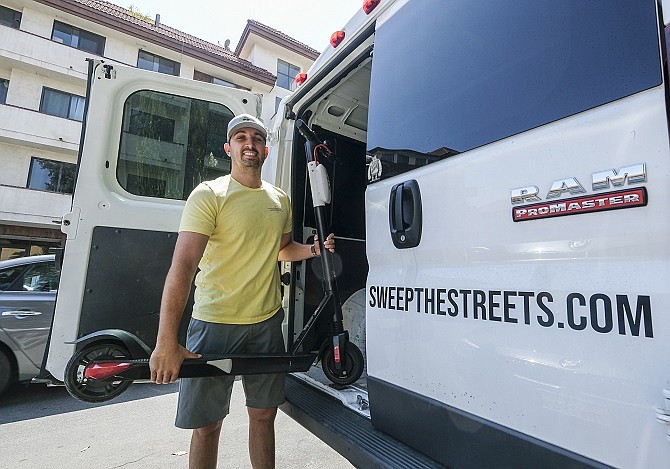 Rich Branning, 29
Title: Chief executive and co-founder, Sweep Inc. Corp. (along with Johnny Macarthur, 29, and Ty MacArthur, 26)
Company: Sweep, based in Sawtelle, provides logistics and maintenance for scooter companies, including cleaning, battery charging and relocating scooters to heavier-use areas.
Financials: No money raised. Branning said the company's revenue in the past year was "over seven figures."
Employees: 50
What led you to start this business?
Had a dream one night in the fall of 2017. It was of a person who needed to get to their yoga class on time in Santa Monica but couldn't because traffic was bad, there was no parking, and there were no scooters within a half-mile distance. It was at that moment that I knew the last mile space needed saving.
How did you fund it, and how are you funding it going forward?
Self-funded with money from lemonade stands in late '90s and shorting Bitcoin investments two years ago. We've been approached with venture and other investment opportunities. We're still considering them. Fortunately, cash flow is good.
Are there advantages or disadvantages to starting a business in your 20s, and if so, what are they?
No one takes you too seriously. So much of that question is dependent on your current situation. If single and in the 20s, there is less risk, and more flexibility and ability to try something out. You still have a lot of life, and you don't have to worry about kids and a partner. You lack clout.
Do you have a mentor?
Ray "The Goat" Ho and Jonathan "The King of Malibu" Beck, both of whom are buddies of mine. They are on my advisory board. Ray is a professional poker player and is a true savant in the shoe business. Beck plays folk music and is an expert with scaling a business.
Where do you go for advice regarding your business?
If we want strategic advice, we go to my mentors. I sometimes go to my younger brother, Royce. He lives in the Bay Area in Palo Alto and is a software engineer. I don't typically look to advice from techies. He's 23.
How much time/money do you spend on social media for your business?
We are not consumer-oriented, and that doesn't lend itself to social media, but that may change. I am trying to use social media less because I am too addicted to my cellphone.
Does social responsibility play a role in your business?
Yes. Our work is aimed at lowering carbon dioxide emissions. We are trying to create an infrastructure. In terms of being environmentally friendly, we are in the process of getting a license from the L.A. Green Business Program.
Do you feel that your business is particularly tailored to the Los Angeles market, or do you feel you could have launched it in another location?
L.A. for us has been the best city in the U.S. In our opinion, we like the ability to have a presence here and scale nationwide. We are definitely long on L.A. as a place to work and live. The weather and the city have been a nice jump-start for our business.
Do you encounter skepticism from investors because of your age, and if so, how do you handle it?
I grew up in the Silicon Valley, so I'm very used to having the venture crowd think I'm insane. If you're looking for validation on a new venture without massive wins already on file, then being in the startup world isn't for you.

What do you do for fun?
Work, hang with family, go to church, get jacked at Iron Fitness, and eat at R+D Kitchen, a gastropub in Santa Monica.
For reprint and licensing requests for this article, CLICK HERE.
Stories You May Also Be Interested In