CHANGE FACTOR
Sunnie Kim and Hana Financial look to revitalize a flagging industry
Friday, June 14, 2019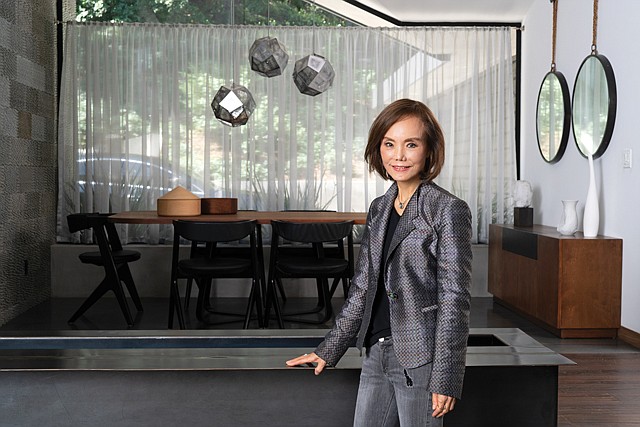 Hana Financial Inc. is deploying a new strategy to revive an old business line.
For most of its history, the 25-year-old bank provided apparel industry manufacturers with a niche financial service called factoring — providing upfront cash to businesses in exchange for the right to collect payments on invoices issued by companies to downstream retailers.
Factoring still provides the cash apparel companies need to operate day to day, but as much of the local apparel industry has moved overseas — and as retailers shift toward ecommerce — demand for Hana's primary service has faltered, according to Sunnie Kim, the downtown-based bank's chief executive.
Kim cited the continued development and success of internet platforms, changes in consumer-buying habits and overall fashion tastes as major causes for factoring's decline in retail space.
She explained that the garment industry factoring business continues to be driven by price competition, due to "fewer and fewer viable vendors resulting from a shrinking retail base."
As a result, factoring volume at Hana has fallen 20% to $1.4 billion in 2018 from $1.8 billion five years earlier.
"Financially, it's getting worse," Kim said.
So Hana is turning to transportation and other less conventional industries as a new revenue source for its factoring business.
"Anything with an invoice works," explained Michael Gardner, Hana's chief credit officer and portfolio manager. "It works with transportation, staffing, auto parts, wine companies and advertising."
New strategies
The move toward transportation is a natural progression — providing services to goods-movers rather than goods-makers — as both the United States and Los Angeles area economies have shifted to importing most of what they consume. The higher volume of goods entering the country from elsewhere requires an intricate and widespread network of ships, trains and trucks to transport them from the other side of the world to consumers' doorsteps.
Factoring in the transportation sector means drivers can get paid for hauling a load much faster than they normally would. Truckers that use Hana's factoring service are given an account that the bank credits money to once goods are delivered rather than having to wait 30 days for an invoice to be paid by a shipper.
Hana launched its transportation finance practice late last year and is working to build out the team in order to expand the business. The bank wants 30% of its factoring business to be transportation and staffing-related in the next three years. As of today, apparel and textile industries account for 90% of Hana's factoring business.
For reprint and licensing requests for this article, CLICK HERE.
Prev Next