Imports Fall at Los Angeles, Long Beach Ports
Originally published June 11, 2019 at 4:14 p.m., updated June 11, 2019 at 3:46 p.m.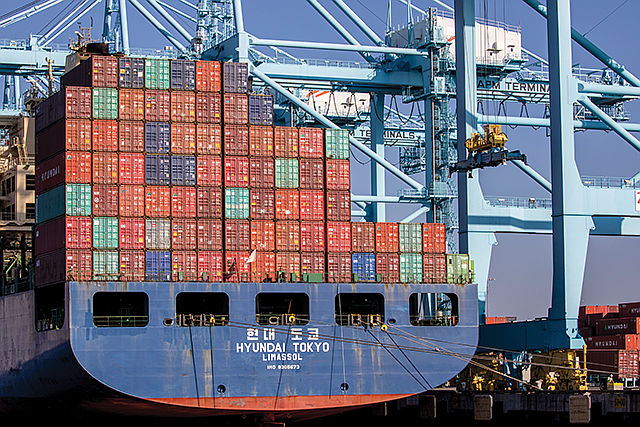 Imports into the San Pedro Bay sunk 6.3% in May, as trade war tensions between the U.S. and China continued to impact the flow of goods.
Data released by the Los Angeles and Long Beach ports show overall volume in May was down 6.6% compared to the same period a year ago. That's in contrast to national port volume. The National Retail Federation and consulting firm Hackett Associates estimates that port volume in May at major U.S. ports was up 3% year-over-year.
Port officials are keeping their eye on the trade trade spat with China. Last month, the Trump administration raised tariffs on $200 billion worth of goods, including furniture and automotive parts, to 25%. China responded with tariffs on $60 billion in U.S. goods.
The administration has threatened to impose tariffs on the rest of Chinese imports, about $300 billion worth of goods. The move could damage port business. The two ports' combined volume make the complex the busiest in the country, with the highest number of imported products from China.
Despite the tensions, the NRF expects retailers to continue stocking up on goods as they try to get ahead of any additional tariffs. Many distributors in the Los Angeles area, however, are facing a shortage of warehouse space.
Exports declined at the twin ports in May 7.4% to 287,934 twenty-foot equivalent units, the measure of cargo boxes. Empty cargo shipments rose 4.6% to 395,995 TEUS.
Manufacturing, retail and trade reporter Rachel Uranga can be reached at ruranga@labusinessjournal.com or (323) 556-8351. Follow her on Twitter @racheluranga
cORRECTION: An earlier version misstated the amount by which port volume declined. It declined 6.6%.
For reprint and licensing requests for this article, CLICK HERE.