Offices Go Industrial Chic
REAL ESTATE: Warehouse conversions on the rise
Friday, June 7, 2019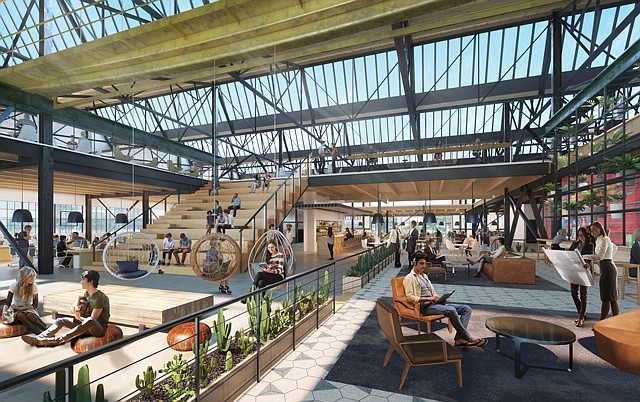 Super League moved to its Santa Monica warehouse in early 2015, starting out in what Hand described as a "cramped, modest area upstairs." In June 2016, the company expanded to a larger space in the same building.
"There's something romantic when you're a startup about staying in your roots," Hand said.
The office still has a distinct warehouse feel with exposed ductwork, concrete floors and a roll-up dock door. On sunny days, members of Hand's team open the roll-up door to allow in more natural light.
Awesome Office Inc., known as SnackNation, operates out of offices at the Hayden Tract, a former warehouse district in Culver City that has mostly been converted to office space. Alysse Burroni, director of brand marketing for the company, said many refer to the Hayden Tract district as "Creative City" — a home to startups, creative agencies and technology companies.
SnackNation's offices were designed by Eric Owen Moss Architects.
Technology giant Google has also gotten in on the industrial conversion trend on L.A.'s Westside. In 2016, Google leased the old airplane hangar in Playa Vista where Howard Hughes built the Spruce Goose. Before taking over the space in 2018, Google added multiple levels to the building, significantly expanding its square footage.
Developers in on it
Durnin said there are about a dozen developers converting industrial spaces to office buildings. Many of the properties are smaller and older, difficult for trucks to access, and are in need of major rehab work.
"If you own a building that has a previously obsolete use, the creative movement is still in effect," Durnin said. "That space will lease up faster than a traditional office tower would because that space is unique."
BKM Capital Partners acquired Backlot Burbank for nearly $85 million in 2018. The group added creative industrial upgrades, which Brett Turner, director of acquisitions for BKM, thinks will help attract talent. Turner said that while the property is still predominantly an industrial operation, several of his tenants use a portion of the space for offices.
Since adding the creative upgrades, Turner said, the Backlot Burbank property has shifted from drawing in "lower range tenants" to "new tenants that are highly skilled."
That means higher rents than traditional industrial tenants would pay. Even though warehouse space is traditionally cheaper than its office counterpart, experts say historically low vacancy rates driven by ecommerce have tightened the price gap.
"We can increase our rent substantially, and the tenants are happy to pay it to attract the talent," Turner said.
For reprint and licensing requests for this article, CLICK HERE.
Prev Next