Automation Arriving at Area Garages
Miracle Mile, Hollywood set for new structures
Friday, June 7, 2019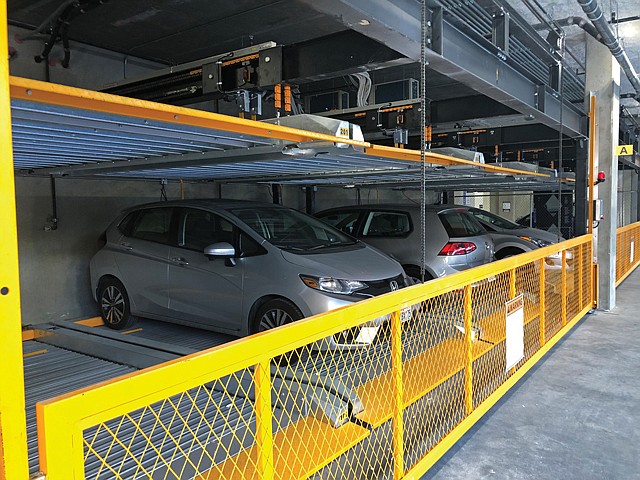 In car-centric L.A., you can't build a new residential development without including plenty of space for vehicles.
Now some higher-end projects are giving their garages an automated upgrade.
Developer Walter Marks' $400 million, 42-story tower project on Miracle Mile is incorporating an automated parking garage — in addition to a wide range of amenities like swimming pools and a bowling alley.
"It's a big component of this building," Marks said of the parking garage. "Trying to solve the parking situation 20 years from now and solve it today is one of the goals of every developer."
Tenants of the complex at 5411 Wilshire Blvd. will be able to drop off their cars in a parking bay, like a normal lot. From there, a lift mechanism lowers the car into underground storage. The system also charges electric cars.
When drivers are ready to leave, they scan a keycard, and the system retrieves their cars.
Marks opened another automated parking structure in 2017 with Walter N. Marks Inc. and AutoParkIt at the Helms Bakery complex in Culver City. Richard Keating, who is designing the Miracle Mile tower, also designed the Culver City project.
The automated garage has room for 200 cars — 70 more than the 130 that would fit in a traditional structure of the same size, Marks said.
And on May 29, CityLift Parking announced it was granted approval for a three-level automated parking system in Hollywood. At the facility, drivers park in a lift, and the system then stacks and stores the vehicles.
CityLift said it saves 60% of space over a traditional lot. The cars take a minute and a half to retrieve when stacked three high, the company said.
CityLift declined to provide the address of the Hollywood facility. The company said it's also installing automated parking in Santa Monica and Long Beach.
"There's not a lot of space to build, and we're finding that developers' options are to build up or build down," said Raymond Kahue, director of marketing at CityLift. Space developers might have devoted to parking can instead be used to add residential units or more amenities, he said.
For reprint and licensing requests for this article, CLICK HERE.