Managing Up
Skyscraper owners spend big to attract creative companies
Friday, July 26, 2019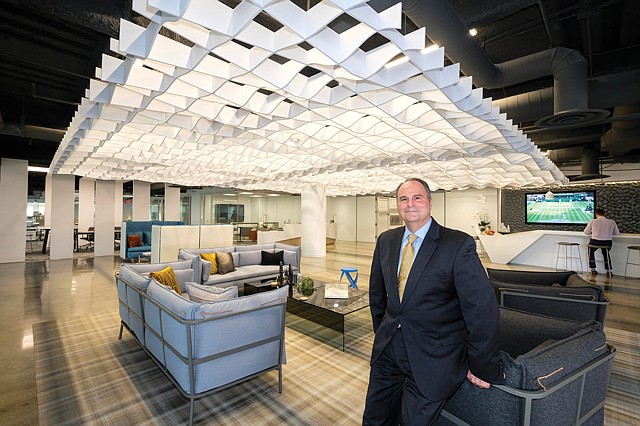 For years, creative companies looking to relocate or expand in Los Angeles have targeted low-rise campuses and refurbished industrial buildings — particularly in the Westside's hot office market.
Recently, though, downtown's skyscraper owners — companies like Coretrust Capital Partners, KBS and Brookfield Office Properties Inc. — have undertaken pricey renovations featuring high-end designs and amenities to attract the kinds of tenants traditionally drawn to the Westside.

Since 2013, roughly $6.5 billion has been spent to buy and upgrade downtown's high-rise office buildings, many of which were built in the 1970s, '80s and '90s, according to the Downtown Center Business Improvement District.
Downtown's office towers were thought of as "our old father's office," said Nico Vilgiate, an executive vice president at Colliers International Group Inc.
But in the last six years, every major skyscraper downtown has changed ownership, said Nick Griffin of the business improvement district. And with new funding and fresh energy — and killer views — the buildings are beginning to attract a broader range of occupants.
"For years, (downtown) had traditional tenants of finance and law," Griffin said. "Now the growth is in … media, arts, tech, design and fashion — more creative industries."
Part of that change has to do with the business improvement district's aggressive efforts to market downtown's aging, dated office buildings. Last summer, the group launched an initiative dubbed Hacking the Highrise that it says promotes "how DTLA's office towers are being reimagined for a new era of city living and a new generation of tenants."
On its website, the group lists nine buildings that have been renovated with today's clientele in mind. They include the Wells Fargo Center, City National Plaza, the U.S. Bank Tower and The Bloc.
Still, the downtown BID says vacancy rates remain higher than it would prefer.
When it comes to renovations, brokers and developers say high-rise owners don't have much choice — those that don't upgrade the design and amenities in their buildings won't be able to attract new tenants.
"Landlords used to just be able to hand someone a floor," said Chris Rising, chief executive of Rising Realty. "Now tenants are saying our employees want more out of the space, or we are going to move somewhere new, and that is scaring a lot of landlords."
Big dollars
The renovations don't come cheap. Coretrust Capital Partners, which bought a skyscraper at 444 S. Flower St. for $336 million from Hines Holdings Inc. in 2016, has spent roughly $4 million on one floor alone — a showcase floor meant to entice potential tenants.
The 22,000-square-foot floor is called the Workplace Innovation Lab. It's decked out with private glass offices, coworking-like common areas and other design features including pumped-in sounds of running water, fragrances and landscape scenes decorating the walls.
Some of the furniture, primarily from Haworth Inc., absorbs sound. And the office's walls can be moved to create alternate floor plans.
Coretrust has given more than 200 tours of the space, and leasing has ticked up, said Tom Ricci, a managing principal at the company.
Many prospective tenants in sunny L.A. are looking for outdoor space incorporated into the office design — a place where tenants can stretch out, even inside a tall building.
Coretrust took out a corner of a wall in the Workplace Innovation Lab to create a 1,000-square-foot indoor terrace.
KBS announced July 9 that it's spending $20 million to renovate Union Bank Plaza with a two-story retail level, outdoor seating with fire pits, a new lobby and some office suites.
And Brookfield Office Properties is spending $170 million to overhaul the California Market Center where it's planning to create outdoor decks as part of the renovation. In many of its renovations, Brookfield is adding more interior atriums, sometimes vaulting multiple floors to "create space within space," said Bert Dezutti, executive vice president at Brookfield.
By the end of the year, the group will complete a $60 million renovation of the Wells Fargo Center atrium, which Brookfield is calling "Halo." The space will feature restaurants and an indoor-outdoor bar. Brookfield is partnering with Convene to manage its amenities and outdoor areas.
"We're not just thinking about the office — we're thinking about the community," Dezutti said.
Hotel-like amenities
Downtown's building owners are looking to develop more of a welcoming atmosphere at the street level, too. Dezutti said it's one place where downtown has an advantage over outer neighborhoods.
"The density of the central business district with all of its amenities is difficult to replicate in the suburban environments," he said.
Brokers and developers said many building lobbies are getting upgrades including wireless internet, converting them into casual workspaces.
Landlords want to offer "an almost hotel-themed environment allowing tenants and their employees to work while being in a sort of living room experience," said Vilgiate of Colliers.

Rising of Rising Realty said creating a hospitality-like atmosphere is a priority. "We look at our lobbies more like hotel lobbies," he said.
Rising Realty buildings downtown include 1 Cal Plaza and the CalEdison. The lobbies at those towers have music and Wi-Fi as well as a concierge and food offerings.
Rising Realty recently finished updating 1 Cal's lobby and is starting on the courtyard. It is also working on the lobby at the CalEdison building.
Dezutti said downtown office buildings have to become more than just a workplace — they have to offer an "experience" in order to attract tenants in the creative fields they're targeting. For example, The Bloc, a retail and office complex at 700 S. Flower St., offers fitness classes and live music.
Ricci of Coretrust said downtown has to start thinking outside the box.
"There are only so many low-rise buildings," he said. "We want to make it cool for an employer to come back to a building like this."
For reprint and licensing requests for this article, CLICK HERE.