Managing Up
Skyscraper owners spend big to attract creative companies
Friday, July 26, 2019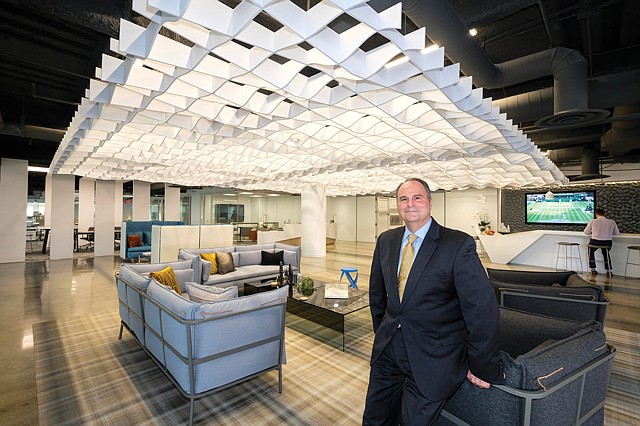 For years, creative companies looking to relocate or expand in Los Angeles have targeted low-rise campuses and refurbished industrial buildings — particularly in the Westside's hot office market.
Recently, though, downtown's skyscraper owners — companies like Coretrust Capital Partners, KBS and Brookfield Office Properties Inc. — have undertaken pricey renovations featuring high-end designs and amenities to attract the kinds of tenants traditionally drawn to the Westside.

Since 2013, roughly $6.5 billion has been spent to buy and upgrade downtown's high-rise office buildings, many of which were built in the 1970s, '80s and '90s, according to the Downtown Center Business Improvement District.
Downtown's office towers were thought of as "our old father's office," said Nico Vilgiate, an executive vice president at Colliers International Group Inc.
But in the last six years, every major skyscraper downtown has changed ownership, said Nick Griffin of the business improvement district. And with new funding and fresh energy — and killer views — the buildings are beginning to attract a broader range of occupants.
"For years, (downtown) had traditional tenants of finance and law," Griffin said. "Now the growth is in … media, arts, tech, design and fashion — more creative industries."
Part of that change has to do with the business improvement district's aggressive efforts to market downtown's aging, dated office buildings. Last summer, the group launched an initiative dubbed Hacking the Highrise that it says promotes "how DTLA's office towers are being reimagined for a new era of city living and a new generation of tenants."
On its website, the group lists nine buildings that have been renovated with today's clientele in mind. They include the Wells Fargo Center, City National Plaza, the U.S. Bank Tower and The Bloc.
Still, the downtown BID says vacancy rates remain higher than it would prefer.
When it comes to renovations, brokers and developers say high-rise owners don't have much choice — those that don't upgrade the design and amenities in their buildings won't be able to attract new tenants.
"Landlords used to just be able to hand someone a floor," said Chris Rising, chief executive of Rising Realty. "Now tenants are saying our employees want more out of the space, or we are going to move somewhere new, and that is scaring a lot of landlords."
Big dollars
The renovations don't come cheap. Coretrust Capital Partners, which bought a skyscraper at 444 S. Flower St. for $336 million from Hines Holdings Inc. in 2016, has spent roughly $4 million on one floor alone — a showcase floor meant to entice potential tenants.
For reprint and licensing requests for this article, CLICK HERE.
Prev Next