Barrack to Step Aside as Chief Executive at Colony Capital
FINANCE: Firm announces $800M worth of investments in energy, communications
Friday, July 26, 2019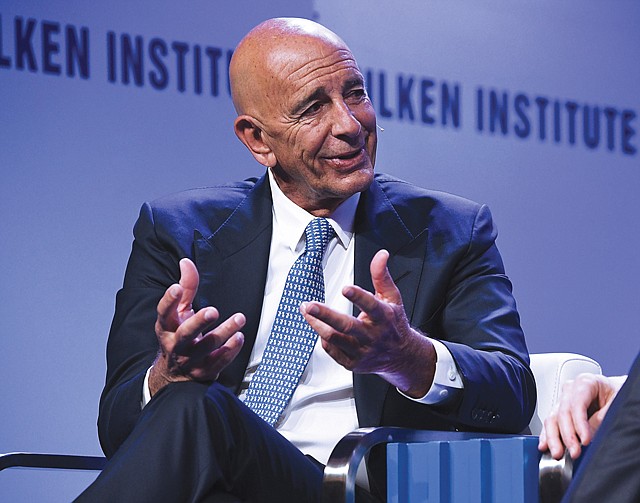 Colony Capital Inc. said Chief Executive Thomas Barrack Jr. will step aside from leading the downtown-based real estate investment firm, just nine months after he returned to the role.
Barrack, who served as chairman of President Donald Trump's inaugural committee, founded Colony Capital in 1991.
The July 25 statement came alongside Colony's announcement of two blockbuster deals.
In the first, the firm said it was planning to invest up to $500 million in a Central California energy drilling project — a joint venture with Chatsworth-based energy exploration company California Resources Corp. An initial investment of $320 million will serve to develop CRC's flagship Elk Hills field, located in central California. The total investment could increase to $500 million, subject to mutual agreement of the parties.
Two days after announcing the oil field JV, Colony said it planned a $325 million acquisition of Boca Raton, Fla.-based Digital Bridge Holdings, which manages $20 billion in communications infrastructure businesses.
That announcement included the news that Barrack's role at the firm was changing. Marc Ganzi, who co-founded Digital Bridge with Ben Jenkins in 2013, will succeed Barrack at Colony Capital in an executive transition that's expected to be completed by 2021, the firm said. Barrack will remain with the firm in an executive chairman post. He declined a request for comment.
Colony Capital, which has more than $40 billion in assets under management, began a strategic review of its business earlier this year after reaching an agreement with one of its activist investors, New York City-based Blackwells Capital, an alternative investment management firm, which added two directors to Colony's board.
Colony's shares have fallen more than 63% since early January 2017 after it merged with NorthStar Asset Management Group Inc. The stock closed July 25 at $5.41.
For reprint and licensing requests for this article, CLICK HERE.