The Mouse That Roared
Supersized Disney posts $99 billion gain to boost LA market cap
Friday, July 19, 2019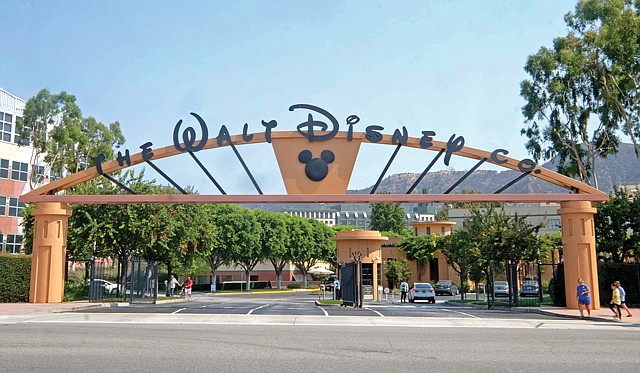 When it comes to the market capitalization of L.A.'s publicly traded companies, it's Disney's galaxy.
For the year ended June 30, the 131 companies on the Business Journal's annual list of publicly traded companies ranked by market cap had an overall gain of 12% to $765.7 billion, outstripping the single-digit percentage gains on the broader national markets over that same period.
All of that gain and then some — a whopping $99 billion — came from just one company: Walt Disney Co.
Thanks to an increase of 63.6% in market cap to $255 billion, Disney dominates the Business Journal's list of public companies like never before. The company comprises exactly one-third of the total market cap of all 131 companies. And that $99 billion market cap increase exceeds the total market cap of every company on the list except for No. 2 Amgen Inc.
Take Disney out of the picture, and it's a different story. Without Disney, the remaining 130 companies on the list saw their collective market cap decline about 3%.
That significantly underperformed broader indices, such as the Standard & Poor's 500, which rose 8.2% for the year ending June 30; the Russell 3000, which climbed 6.9% over that time period; and the Nasdaq, which gained 6.6%.
The performance of L.A. County's publicly traded companies reflects the dominance of large cap stocks on the broader markets and relative weakness among small and mid-cap stocks, according to Sahak Manuelian, managing director and head of equity trading at downtown-based Wedbush Securities Inc.
"The small-cap and small/mid-cap (sectors) have grossly underperformed broader market strength which speaks to leadership and breadth which has been coming from large and mega-caps," Manuelian said in an email. "Looking at the list of roughly 130 companies in L.A. and putting into perspective market cap and sector weighting, it is not much of a surprise that — excluding Disney — the group collectively underperforms."
Overall, 74 companies on the list recorded drops in market cap between June 30 of last year and June 30 of this year, with 60 of those drops in double-digit percentages. Fifty-four companies recorded gains in market cap, with 41 of those in double-digits.
The remaining three companies on the list were newcomers, thanks to recent initial public offerings: El Segundo-based Beyond Meat Inc., which made a spectacular debut in May; Beverly Hills-based Fat Brands Inc.; and Cerritos-based Eminent Inc., doing business as Revolve Clothing, which had its IPO in June.
Several companies dropped off the list. Americas United Bank was purchased by San Diego-based Bank of Southern California in August. Smart and Final Stores Inc. is being taken private in a merger deal that closes this quarter with affiliates of New York-based Apollo Global Management. And Differential Brands Group Inc. in October completed the purchase of Global Brands Group Holding Ltd.'s American licensing business, changed its name to Centric Brands Inc. and moved its headquarters to New York.
For reprint and licensing requests for this article, CLICK HERE.