Labor Unions Gaining Momentum
Potential for actions by workers increases
Friday, July 19, 2019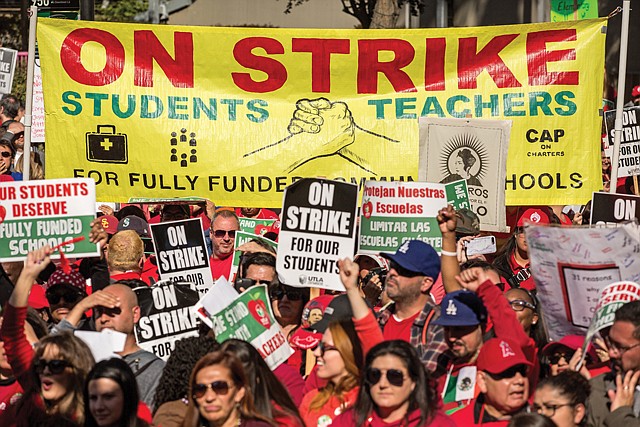 Unions representing grocery clerks, nurses and airline caterers in Los Angeles are poised to strike in the coming months as an emboldened labor movement flexes its muscle across Southern California.

With unemployment rates at record lows, labor has ramped up organizing, and union officials have become more aggressive in their tactics — even as labor membership slips.

"Labor unrest is strikingly high," said David Smith, associate professor of economics at Pepperdine University. "Even though the percent of workers covered by unions is still in decline, stagnant wages and greater public support for unions is fueling more action on the part of unionized workers." 
Last year there were more work stoppages in the United States than have occurred since 1986, he said. Angelenos saw it in the weeklong strike by Los Angeles Unified School District teachers in January. The protest garnered widespread public support and helped galvanize labor.
"There's a moment here," said Kurt Petersen, who walked the picket line with teachers and is co-president of Unite Here's Local 11, made up of 31,000 hospitality industry workers in Southern California and Arizona.
Members of his union authorized strikes at 29 L.A. region hotels in December. Two weeks later, the union secured a contract that gave housekeepers a raise to $25 an hour by 2023 from their current $19 an hour.
Last year, a Gallup poll revealed increasing support for unions with 62% of Americans approving of the labor organizations even if they don't belong to one. It's unions' highest favorability rating since 2003.
Labor appears to be benefitting from that sentiment.
Earlier this month, the union representing 85,000 Kaiser Permanente employees said its members will vote on whether to approve a strike. The move came after the United Food and Commercial Workers, representing more than 60,000 grocery workers in Southern California, authorized a strike vote amid stalled contract negotiations. The vote gives union leadership the authority to call a strike and greater leverage in bargaining sessions. It doesn't mean that a strike will be called.
The Writers Guild of America ratcheted up labor tensions in Hollywood three months ago when it told members to fire their agents. Custodians, lab technicians and others walked off their jobs at the UCLA's leafy campus this spring in one-day strikes. And high-profile unrest among dockworkers at the Port of Los Angeles has drawn hundreds of protesters in recent months.
"There's a general sentiment where people understand that things need to change here in L.A. and in California." said Kent Wong, director of the UCLA Labor Center. "While unemployment is low, the actual standard of living and wages for most workers is stagnant and, in some instances, declining."
For reprint and licensing requests for this article, CLICK HERE.