LA Outpaces California on Hotel Construction
Thursday, July 18, 2019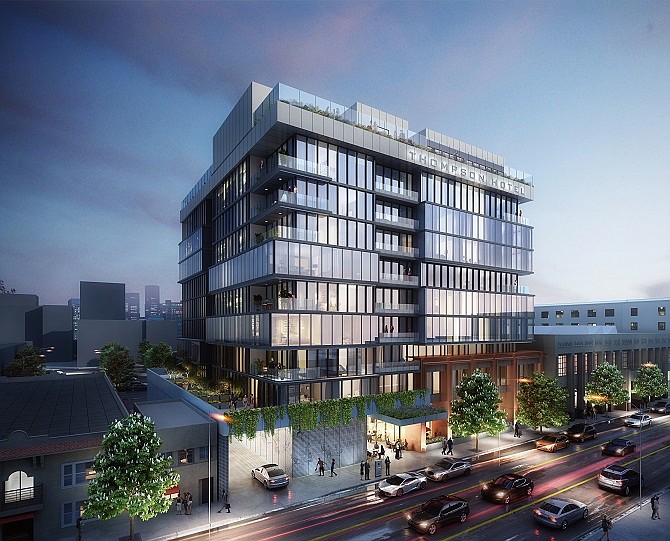 It's been a record-setting year for hotel construction in California, and L.A. County is outpacing the rest of the state, according to data from Atlas Hospitality Group.
Statewide, 36 hotels have opened so far this year, compared with 26 hotels at the same point last year. The number of new hotels in the planning stages increased 19%.
In L.A., four new hotels with 505 rooms opened during the first half of the year. They were the 271-room Proper Hotel in Santa Monica, the 176-room AC Hotel Beverly Hills, the 49-room Palihotel in Culver City and the nine-room Arts District Firehouse Hotel in downtown.
The county has 45 hotels with a total of 7,497 rooms under construction and 268 hotels with 40,190 rooms in planning. The biggest hotels under construction are the 410-room AC Hotel and Moxy Hotel, both located downtown.
The county leads California in both number of rooms under construction and under development. Most of the construction and development is downtown.
"There's the resurgence of the downtown market, the growth of Staples Center and the Convention Center, the commercial development in the downtown area and the willingness of the city to work with developers and give tax incentives to spur development in the downtown area for hotels," said Alan Reay, president of Atlas Hospitality.
Nick Griffin, executive director at the Downtown Center Business Improvement District, said downtown was becoming a major tourist destination.
"There's many factors, but they all roll up into downtown becoming a city unto itself with the number of workers and residents and visitors converging on downtown, it creates a great deal of demand for hotels," he said. Downtown has 22 million visitors annually, he said.
Griffin said he expects to see the number of hotels continue to rise, especially with the planned expansion of the Convention Center.
Other markets are building, too. "The other areas of L.A. County were seeing record profits on existing hotels, record revenues, a very very strong economy and the willingness and attractive interest rates of lenders to finance new construction," Reay said.
Most of the hotels coming onto the market are high-end and luxury hotels. With high land and construction costs, it "does not make economic sense … to build lower-end budget motels today. Those owners that do have motels, as long as they do put money back in the product, they almost have a monopoly in the market," Reay said.
The biggest issue right now, Reay added, is rapidly rising construction costs. Still, development shows no signs of slowing down. He anticipates that we will see the same development pace into 2021.
Commercial real estate reporter Hannah Madans can be reached at hmadans@labusinessjournal.com. Follow her on Twitter @HannahMadans
For reprint and licensing requests for this article, CLICK HERE.