Deal Reached Over Automation at the Port of LA
Originally published July 18, 2019 at 6 p.m., updated July 18, 2019 at 6 p.m.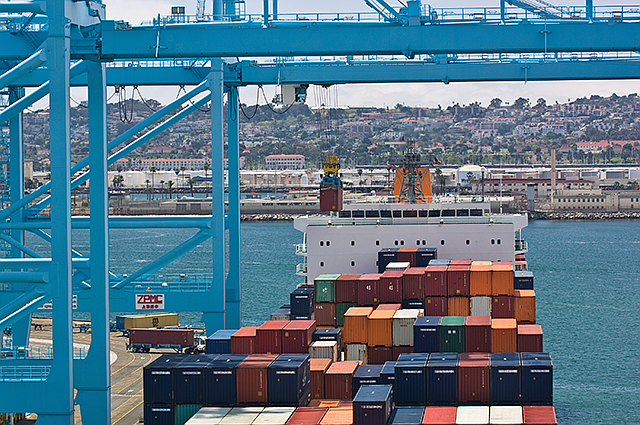 Ending a monthslong fight over automation, the dockworkers' union and operators of APM Terminals' Pier 400 reached a tentative agreement that provides training for workers to service the robots, the parties said late Thursday.
"This tentative agreement will help longshore workers prepare for the port jobs of the future," the Pacific Maritime Association, a group representing employers at West Coast ports, said in a statement. "It is a comprehensive, fully-paid training program to re-skill and up-skill longshore workers to equip them for the next generation of work on the waterfront."
No further details of the agreement were immediately available.
Later this month, the first six of 130 unmanned electric vehicles will arrive at the Port of Los Angeles' Pier 400 – the nation's largest container terminal – to stack cargo.
"We believe that it is critical to the continued success of the Port of Los Angeles that the ILWU is trained for the jobs of the future," Tom Boyd, a spokesman for APM Terminals, said in a statement.
For months, an effort by APM and its parent company A.P. Møller-Maersk to obtain permits for the project became the source of tension. The International Longshore and Warehouse Union contended the equipment could slash the workforce at the terminal by as much as 90%.
APM said the new equipment was needed to be more competitive, reduce labor costs and meet low-emission standards championed by Mayor Eric Garcetti.
In a statement Thursday night, a representative for Garcetti said, "The Mayor looks forward to working closely with (both parties) to deliver a world-class workforce development training center that will ensure our Port remains a leader in training, safety, and sustainability."
A representative from the union could not immediately be reached.
Manufacturing, retail and trade reporter Rachel Uranga can be reached at ruranga@labusinessjournal.com or (323) 556-8351. Follow her on Twitter @racheluranga.
For reprint and licensing requests for this article, CLICK HERE.