Sterling Organization Shells Out $35 Million for Melrose Ave. Retail Properties
Monday, July 15, 2019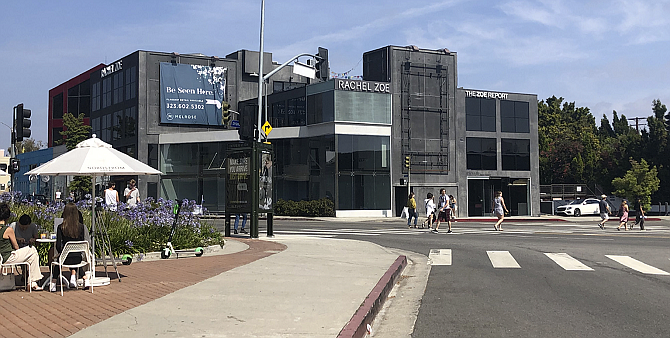 Sterling Organization has acquired a two-building retail portfolio at the intersection of Melrose Avenue and Melrose Place in West Hollywood for $35 million, the group announced July 12.
The portfolio consists of one 3,275-square-foot single tenant building and a 21,379-square-foot multi-tenant building. It was purchased by the Sterling Organization's third institutional Value-Add Fund, Sterling Value Add Partners III.
Brian Kosoy, Sterling's chief executive, managing principal and president, said location was a primary factor in purchasing the Melrose properties. "The assets are exceptionally located and highly visible, which should present our leasing team with the opportunity to tap into a wave of innovative retailers seeking exceptional branding opportunities," he said.
While much of the retail landscape has changed in the last 10 years — with big box retailers and department stores shuttering locations as Amazon.com Inc. and ecommerce startups have flourished — so-called "high street" retail remains in demand.
Shopping districts like Melrose Avenue and nearby Rodeo Drive are among the highest-priced retail streets in the United States, with Rodeo tailing only Upper 5th Ave. in New York, according to a 2018 report.
Houman Mahboubi, an executive vice president at Jones Lang LaSalle Inc., said vacancy rates on high streets are lower than in other retail areas in the county.
"There will always be a market for high street retail because luxury brands have to have a brick-and-mortar presence for their brands to continue to thrive," Mahboubi said, adding that storefront locations have become part of retailers' marketing strategies. "Online presence goes hand in hand with brick and mortar."
Brands that are seen are harder to forget, Mahboubi added.
The Melrose locations appeal to millennial-aged clientele, he said, while streets like Rodeo Drive target luxury shoppers. "Melrose is a mixture of retailers," he said. "You have private clubs; you have wellness; you have cafes; you have mid-range retail."
The Melrose acquisition marks the Sterling fund's sixth and seventh investments. Sterling Organization now owns 54 properties and more than 10 million square feet of retail real estate.
Commercial real estate reporter Hannah Madans can be reached at hmadans@labusinessjournal.com. Follow her on Twitter @HannahMadans
For reprint and licensing requests for this article, CLICK HERE.