FRONT ROW SEAT
Backstage Capital's Hamilton targets startup founders with diverse backgrounds
Friday, July 12, 2019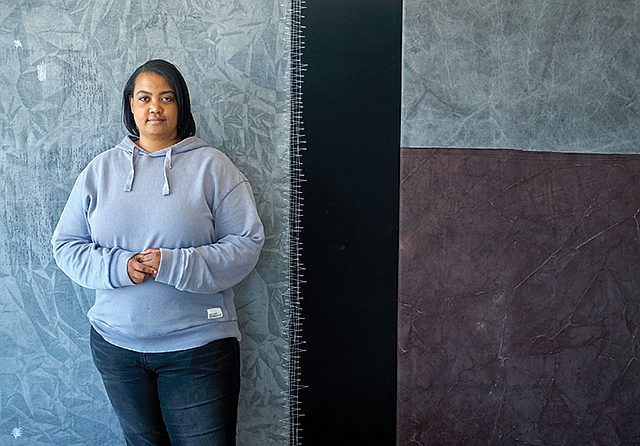 Ayinde Alakoye, co-founder of Santa Monica mobile app Nedl, had trouble nailing down funds for his startup until he met Backstage Capital.
"It was the first venture capital firm that saw beyond my skin color," said Alakoye, who is African American and a veteran of the radio business. He developed the mobile app that became iHeartradio and also founded social app Hitch Radio. His current startup project helps users find and play live radio broadcasts.
Nedl is just the kind of company West L.A.-based Backstage, led by 38-year-old Arlan Hamilton, is looking to fund. Specifically, the venture capital firm is targeting startups with founders who are women, people of color or members of the LGBTQ community. Hamilton, who is gay, calls them "underestimated."
By focusing on businesses led by people from underrepresented groups, Hamilton said, "I have a front row seat to be first."
Since Backstage Capital's launch in 2015, it has invested more than $10 million in 125 companies. Hamilton counts among her partners Mark Cuban, owner of the National Basketball Association's Dallas Mavericks and an investor on the ABC reality TV show "Shark Tank."
Hamilton is currently working to raise $36 million for a new fund, with limited partners including big name investors Marc Andreessen, Susan Kimberlin, Leslie Miley, Lars Rasmussen and Brad Feld, among others.
But earlier this year, controversy swirled around Backstage Capital after tech trade publications reported rumors that Hamilton's fundraising efforts for the $36 million fund weren't going well and that she might be stepping down as managing partner.
In late March, she wrote in an email to the Business Journal: "I appreciate you wanting to hear this from the source. I have not left Backstage and in fact am doubling down."
In the interview this month, Hamilton dismissed media reports that some of the limited partners had pulled out of the $36 million fund raise.

"The VC world is still figuring out what to make of us," Hamilton said.
Len Lanzi, executive director of the Los Angeles Venture Association, said he's "excited by the prospect that we now have a venture fund focused on the underserved community. (Backstage Capital) gives us an opportunity to help people become successful," he added.
An unconventional story
Hamilton has an eclectic background for the venture capital world.
She doesn't have a college degree to hang on her office wall, and she has spent time homeless or living in motels. You won't find her playing golf with investors on country club courses.
Hamilton was born in Jackson, Miss., and raised by a single mom in Dallas. She attended a Dallas community college but dropped out. It wasn't for her, she said.
Instead, she landed on a career managing tours for musicians including Toni Braxton, Jason Derulo, Kirk Franklin and CeeLo Green. She said the experience taught her a lot about how artists build their brands.
Hamilton's interest in venture capital kicked in when she saw celebrities beginning to invest in Silicon Valley startups, starting around 2010. She noticed quickly that diversity was a problem in the corporate world, and she felt compelled to launch her own effort aimed at supporting startup founders from a wider range of backgrounds.
In 2015, Backstage Capital was born — with a name put forth by Hamilton's mother, in reference to her daughter's work backstage on tours.
Tracy Gray, who recently launched downtown-based VC firm The 22 Fund, said Hamilton has become a kind of spokeswoman for diversity in the startup community.
"There are a bunch of funds that are trying to do similar things, but what is really great about what she's doing is that she's really focused on the branding side," Gray said.
"It's very important that she comes from outside of the ecosystem of the VC world. People on the inside are unlikely to stir things up," Gray added. "She has shone a big, bright light on the issues."
Foot on the accelerator
Backstage Capital recently completed a three-month accelerator program in partnership with Microsoft for Startups, backing 24 startups with an investment of $100,000 each, mentorship and a workspace in exchange for a 5% equity position. The program fielded 1,900 applications, Hamilton said.
Plans are in the works for a follow-on accelerator program in 2020.
For Nedl's Alakoye, the first Backstage investment was tiny — less than $100,000 — but he said it opened doors to larger infusions from other venture capital investors.
Subsequent to the Backstage commitment, Nedl received investments from GV, the venture capital investment arm of Google's parent Alphabet Inc., and Sweet Capital Ltd., an investment fund created by the founders of mobile game "Candy Crush."
Alakoye said Hamilton "is on the front lines saying things we can't typically say. "That loosens up the conversations," he added, "and creates amazing partnerships with other VCs to make sure we get seen."
For reprint and licensing requests for this article, CLICK HERE.