Construction Wraps on Long Beach Center
Friday, July 12, 2019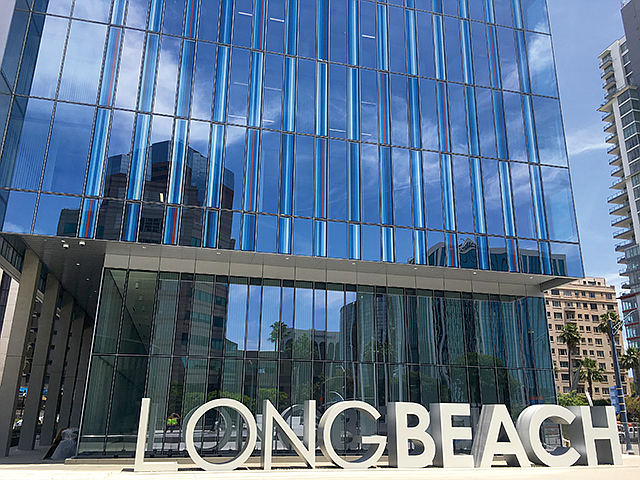 Development is booming in Long Beach on everything from housing and commercial projects to new civic infrastructure.
Later this month, the bayside city's new seaport headquarters and city hall will hold an official grand opening, marking the completion of a three-year, $428.3 million construction project. The 620,000-square-foot Long Beach Civic Center project will also include a new library, which will open in September.
Clark Construction Group was the contractor and Skidmore Owings & Merrill was the architect. Clark also did roadway and pedestrian improvements, including public plazas.
"Clark is honored to work alongside great partners from the City and the Port, as well as with our development and design teams, to bring these important pieces of infrastructure to fruition, and continue to help shape the Long Beach landscape," said Marc Kersey, Clark senior vice president and executive in charge of the project, in a statement.
Johnson Controls Inc. will handle operations at City Hall, the council chambers and the library.
The project was a public-private partnership, funded by Plenary Group and Edgemoor Infrastructure & Real Estate. In exchange for financing the new construction, Plenary and Edgemoor will take over the city's former Civic Center site where they are planning a mixed-use project with residential and retail space.
The Civic Center makeover is just one piece of a widespread development trend in Long Beach, which includes updates to the renowned Queen Mary cruise ship that sits in the city's harbor.
Developers and brokers have attributed the surge of new construction, in part, to the city's easier approvals process and lack of rent control.
At the end of March, there was $5 billion being invested in real estate development in downtown Long Beach and 73 projects citywide either under construction or about to break ground. A total of roughly 5,000 residential units are being built.
One of the biggest projects underway is the Shoreline Gateway, an ocean-adjacent residential project with 315 luxury apartments. The project is being developed by Ledcor Properties Inc. and Anderson Pacific with partners Qualico Developments Inc. and Lantower Residential, and is expected to be completed in 2021. On the office side, technology company Laserfiche is expanding its headquarters, adding a large creative office campus in the city.
For reprint and licensing requests for this article, CLICK HERE.