NASA Awards SpaceX $50 Million Launch Contract
Monday, July 8, 2019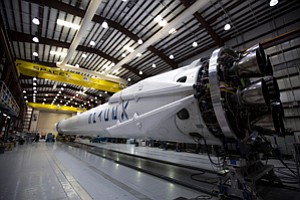 NASA awarded Hawthorne-based SpaceX a $50.3 million contract to launch three space telescopes in 2021.
A Space Exploration Technologies Corp. Falcon 9 rocket will launch the equipment from Florida's Kennedy Space Center in April 2021. NASA said in a statement the $50 million price tag includes launch services and other mission-related costs.
The telescopes are part of NASA's ongoing Imaging X-Ray Polarimetry Explorer, or IXPE, mission which measures X-rays from cosmic objects like black holes and stars to better understand outer space.
Chief Operating Officer Gwynne Shotwell said in a statement that IXPE is SpaceX's sixth contracted mission with NASA's Launch Service Program, which launches unmanned rockets to deliver spacecraft that observe the Earth and other planets.
"SpaceX is honored that NASA continues to place its trust in our proven launch vehicles to deliver important science payloads to orbit," Shotwell said.
Tech reporter Samson Amore can be reached at samore@labusinessjournal.com or (323) 556-8335. Follow him on Twitter @samsonamore.
For reprint and licensing requests for this article, CLICK HERE.