Passenger Traffic at LA-Area Airports Up in 2018
Monday, January 28, 2019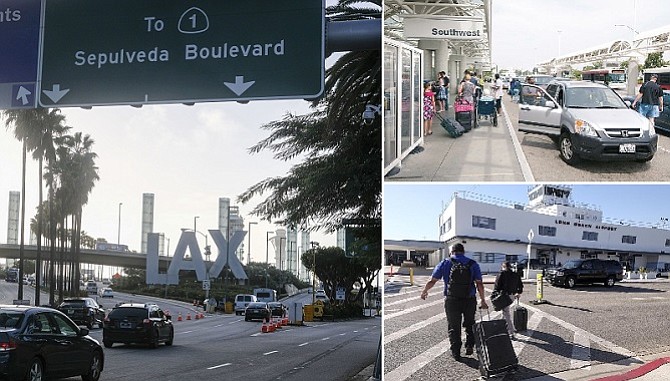 This story has been updated to include recently released data from the Hollywood Burbank Airport.
Passenger traffic rose in 2018 at all four commercial airports serving Los Angeles County, according to statistics released recently by each of the airport governing authorities.
Los Angeles International Airport, by far the largest serving the county, recorded a 3.5 percent increase in passenger traffic to 87.5 million, according to figures released Jan. 28. Ontario International Airport saw the largest percentage gain of 12.4 percent to 5.1 million passengers. Hollywood Burbank Airport reported on Feb. 4 an 11.1 percent increase in total 2018 passenger traffic to nearly 5.3 million. Growth was more modest at Long Beach Airport, with passenger traffic rising 2.7 percent to nearly 3.9 million.
At LAX, while 3 million more passengers went through the terminals in 2018 compared to 2017, the growth rate slowed in 2018 to 3.5 percent compared to 4.5 percent for 2017, according to Los Angeles World Airports, the city agency governing the airport.
International passenger traffic at LAX rose 4.45 percent to 26 million, though that was roughly half the growth rate reported for 2017. Domestic passenger traffic rose 3.1 percent to 61.5 million, a growth rate in line with 2017.
There was little change in the top four airlines by market share at LAX: American Airlines remained on top with 16.45 million passengers for a market share of 18.8 percent; Delta Air Lines was second with 14.6 million passengers for a market share of 16.7 percent; United Air Lines was third with 12.9 million passengers for a market share of 14.75 percent and Southwest Airlines was fourth at just shy of 10 million passengers for a market share of 11.4 percent.
Alaska Airlines still came in at No. 5 at LAX, but its total jumped 60 percent to 5.86 million passengers for a market share of 6.7 percent as a result of its merger with the airline that held the No. 6 spot in 2017, Virgin America.
Air cargo traffic at LAX fell 1.3 percent to 210,000 tons, a reversal from 2017's growth of 5.4 percent.
The growth rate in passenger traffic was much greater at Ontario International Airport, which has been ramping up its marketing efforts since becoming independent of Los Angeles World Airports three years ago. The Ontario International Airport Authority reported 5.1 million passengers for all of 2018, up 12.4 percent from 2017.
About one-third of that increase came from the largest air carrier serving the airport, Southwest Airlines, which added 200,000 passengers for a total of 2.74 million. Frontier Airlines' passenger traffic quadrupled to 243,000 as that airline added several flights. International traffic rose 61 percent as China Airlines saw 130,000 passengers on its nonstop service to Taiwan, which launched last spring.
For reprint and licensing requests for this article, CLICK HERE.
Prev Next