Magic Johnson Enterprises Names New President
Monday, January 28, 2019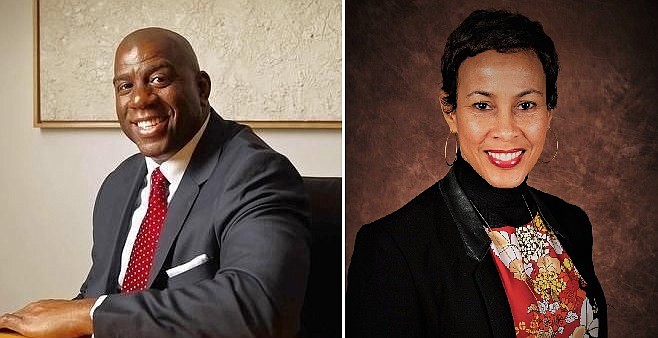 Laker legend Earvin Magic Johnson announced marketing executive Christina M. Francis will take the helm of his Beverly Hills investment firm Magic Johnson Enterprises (MJE) with holdings in the world of sports and business.
Francis, the company's former senior vice president of marketing and communications, will run day-to-day operations overseeing the organizations partnerships, strategy and business development.
She will take over leadership from Johnson who held the role for a year after Eric Holoman became president and CEO of EquiTrust Life Insurance Company in 2016, said company spokeswoman Alexia Grevious. MJE acquired the $18 billion Chicago-based insurance giant in 2015.
Founded in 1987, MJE is a major player in Southern California with stakes in the Los Angeles Dodgers, Los Angeles Sparks, the Los Angeles Football Club, Team Liquid and numerous other holdings. MJE has driven efforts to invest in underserved urban areas.
A native of New Orleans, Francis joined the company in 2014. She previously ran branding and marketing initiatives for the NFL Players Inc, an arm of the NFL Players Association.
"I trust her to continue growing this company to new heights and establishing new partnerships in the coming years," Johnson said in a statement.
Francis and Johnson met when she was spearheading a national advertising and promotional campaigns for Lincoln Mercury featuring Johnson. She later went on to run his 30 Burger King restaurants, according to the company.
Manufacturing, retail and trade reporter Rachel Uranga can be reached at ruranga@labusinessjournal.com or (323) 549-5225 ext. 251. Follow her on Twitter @racheluranga
For reprint and licensing requests for this article, CLICK HERE.