Wag Founders Raise $37 Million for Mobility Venture
Thursday, January 24, 2019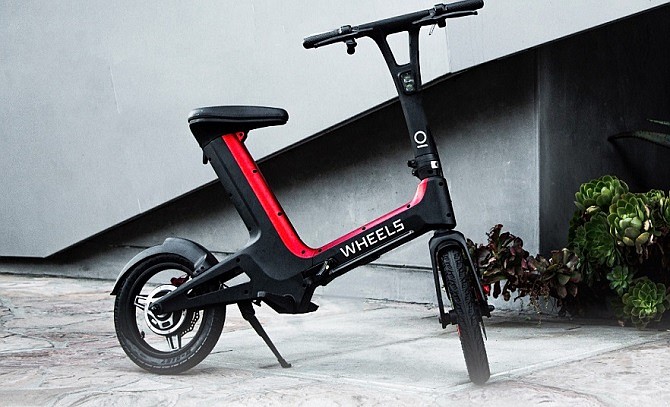 Jonathan and Joshua Viner, co-founders of West Hollywood-headquartered dog walking app Wag Labs Inc., have a new venture dubbed Wheels.
The latest entrant to the dockless electric mobility rumble is based in West Hollywood and boasts investments from Venice-based Bullpen Capital, San Francisco-headquartered Crosscut Capital, and AngelList founder Naval Ravikant.
Wheels' executive team includes former Lyft Inc. Director of Product Ben Shaken, who serves as Wheels' chief product officer. Maro McCottry, former director of product for Uber Technologies Inc., joined Wheels as chief operating officer.
Wheels vehicles are a departure from the typical e-scooter design pioneered by Segway-Ninebot Inc. and used by Santa Monica-based Bird Rides Inc. and Neutron Holdings Inc.'s Lime scooters or the designed by Razor USA and deployed in Long Beach. Instead of a flat deck, Wheels designed their scooters with a seat, mimicking the look of a bicycle, and added thicker 14-inch wheels. A company press release notes added features meant to distinguish the vehicle — including Bluetooth speaker connectivity — and also said vehicle parts and batteries are "swappable, resulting in dynamic maintenance upkeep and a product life cycle that's four times longer than other dockless vehicles on the market."
"When we evaluated the market, we identified a major opportunity to better serve cities with a sustainability-first approach to dockless electric mobility. We've spent countless research and development hours on new manufacturing and servicing models to afford first-ever offerings such as swappable part replacements and removable batteries," Jonathan Viner, president of Wheels, said in a statement.
Currently, Wheels vehicles are available for use in San Diego and the company plans to conduct a "soft launch" in Los Angeles next week, according to a spokeswoman. Wheels vehicles are free to unlock and cost $.25 cents per minute used.
Wag was founded in 2015 and most recently raised $300 million in January 2018 in a round led by SoftBank Group Corp.'s Vision Fund; bringing the Viner Brothers' first venture's funding to a total $321 million to date.
Tech reporter Samson Amore can be reached at samore@labusinessjournal.com or (323) 556-8335. Follow him on Twitter @samsonamore.
For reprint and licensing requests for this article, CLICK HERE.