UPDATE: Dueling Letters Sent to USC Trustees Ahead of Crucial Vote Over Business School Dean
Tuesday, January 22, 2019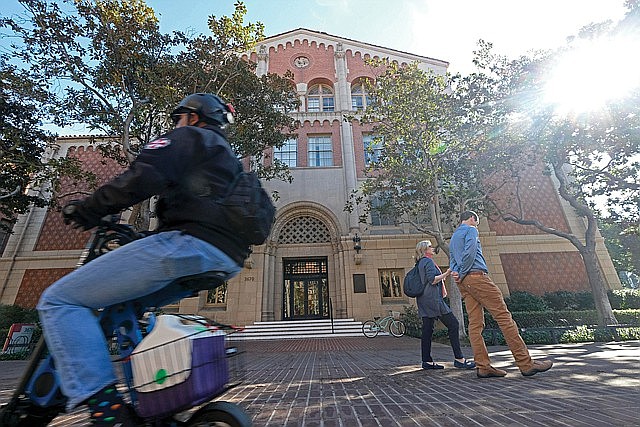 UPDATE: The trustees met for roughly four hours on Jan. 23. According to a university spokesman, there were "no significant actions" or statements resulting from that meeting, either with regard to top university administrators or with regard to the status of Marshall School Dean James Ellis.
Ahead of a crucial USC Board of Trustees meeting on Jan. 23, dueling letters from both sides of the dispute over the future of Marshall School Dean James Ellis that has rocked the campus have been sent to the board.
A letter from a 116-member advisory board of business leaders to the Marshall School of Business was sent late Jan. 21 to the trustees urging them to vote to retain Dean James Ellis for the remaining three years of his contract.
The letter also urged the trustees to replace current chair of the Board of Trustees, Rick Caruso and to remove from their posts the university's top three administrators, including interim university President Wanda Austin.
The other letter, from a group calling itself "Concerned Faculty of USC" urged the trustee board to stay the course with regard to its December decision to uphold Austin's early termination of Ellis' contract as dean. But it also urged governance reforms to ensure that faculty be better informed of such decisions in the future.
The Marshall School business advisory group, known as the Board of Leaders, is comprised of 116 C-suite executives of prominent local companies, including: Alan Casden, chief executive of Casden Properties; Ed Roski, chief executive of Majestic Realty Corp., Lloyd Greif, chief executive of mergers and acquisitions firm Greif & Co., and Richard Rosenblatt, founder of Demand Media.
The Marshall Board of Leaders previously sent a letter to the Board of Trustees before last month's trustee meeting urging the trustees to overturn interim President Wanda Austin's decision to terminate Ellis as Marshall School dean this June, three years before the expiration of Ellis' contract. That earlier letter also urged an independent examination of the allegations in a confidential report that Ellis had failed to follow through on discrimination claims against Marshall School faculty and staff.
The trustees, however, voted to endorse Austin's early termination of Ellis.

This most recent letter goes further, calling for the removal of trustee board chair Caruso and three of the university's top administrators: Austin, Provost Michael Quick and Carol Mauch Amir, senior vice president of legal affairs and professionalism.
For reprint and licensing requests for this article, CLICK HERE.
Prev Next