$1B Crossroads Hollywood Project Approved
Tuesday, January 22, 2019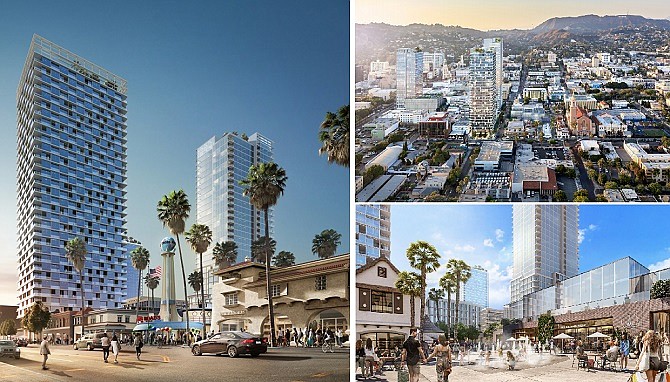 Crossroads Hollywood, a major project proposed for Hollywood, won approval Jan. 22 from the Los Angeles City Council. It is being developed by Harridge Development Group.
The $1 billion project will have 950 units of housing, including 105 very low-income units, more than 300 hotel rooms and 190,000 square feet of commercial space.
David Schwartzman, president and chief executive of Harridge Development Group, said Harridge wanted to be involved in the project because "there are not pieces of property like this in Los Angeles. It is a unique piece of property in the middle of the city."
"This is the Sunset Strip," he added. "This was the land that time forgot and I thought it was a major potential development."
In West Hollywood, the Strip has been revitalized but this section of the Strip had a long way to go, he said.
"I thought Crossroads could be a destination for the community and something that could be known throughout the world," Schwartzman said.
Crossroads of the World is being designed by Skidmore, Owings and Merrill and Rios Clementi Hale Studios.
The project will have nine new buildings. It will knock down 82 rent-stabilized apartments. The building's tenants will be offered spots in the new complex at their same rents with rent increases of 3 percent a year.
Buildings including the Crossroads of the World shopping plaza and the Hollywood Reporter building will remain. The Hollywood Reporter building, at the corner of Sunset Boulevard and Las Palmas Avenue was initially going to be knocked down. It received Historic-Cultural Monument status in 2017 and was instead incorporated into the plans for Crossroads Hollywood.
Schwartzman said that he was excited about adding "more experienced retail" to the area.
"Hollywood is the entertainment capital of the world and there are not that many places to go out and eat," he said.
A movie theater, market and restaurants are among the tenants he is planning to bring to the development.
A completion date for the project has not yet been announced. Schwartzman said he hopes to start construction in about 12 months. After that, it would take 48 to 60 months to build the project.
Other projects Harridge Development Group has in the works include Grace Park, a 228-unit detached condominium complex in Inglewood that is expected to be completed in either 2020 or 2021; a 670-home project in San Pedro on Western Avenue; and a building in Koreatown that is being converted into a hotel.
Commercial real estate reporter Hannah Madans can be reached at hmadans@labusinessjournal.com. Follow her on Twitter @HannahMadans
For reprint and licensing requests for this article, CLICK HERE.