Old Building, New Look
REAL ESTATE: Renovation trend seen for art institutions
Friday, January 18, 2019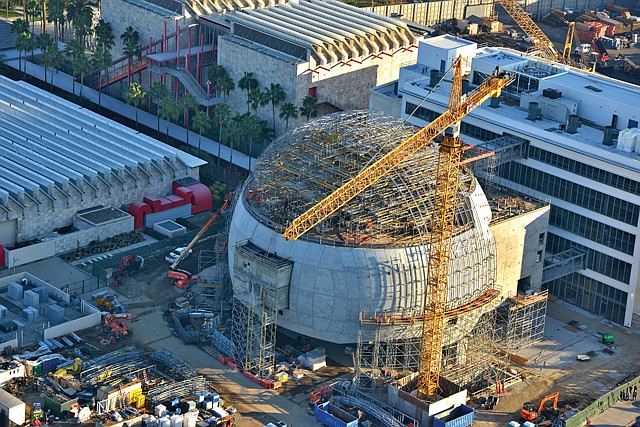 L.A.'s most visual symbol of architecture for the arts has to be downtown's shiny, splashy, ultramodern Frank Gehry-designed Walt Disney Concert Hall, which opened its doors in 2003 and is home to the Los Angeles Philharmonic Orchestra. Or perhaps it is architect Richard Meier's starkly contemporary, white limestone design for the Getty Center in Brentwood, often credited with putting Los Angeles on the international arts map when it opened in 1997.
However, in 2019, two new Los Angeles arts institutions are taking a sharp detour from contemporary design by choosing to renovate historic buildings over new construction.
One is the estimated $388-million Academy Museum of Motion Pictures, slated to open in late 2019, which is spending roughly half of that sizeable budget on the restoration, renovation and expansion of the 1939 May Co. building located at the corner of Wilshire Blvd. and Fairfax Ave.
The structure operated as a May Department Stores Co. location from 1939 to 1992. In 1992, the building's streamline moderne facade was designated a City of Los Angeles Historical-Cultural Monument.
The old May Co. has been renamed the Saban Building in honor of a $50 million donation to the museum from entertainment executive Haim Saban and his wife, Cheryl. The restored building will be a central feature of the 300,000-square-foot Academy Museum campus, designed by architect Renzo Piano. The campus also includes new construction in the form of a futuristic spherical addition that will include two movie theaters.
On a less-grand scale is the Los Angeles Philharmonic's Youth Orchestra Los Angeles' planned new home, which is scheduled to break ground this year in a former branch office of Security Pacific Bank, constructed in 1965 and located at 101 South La Brea Ave. in Inglewood.  
The $14.5 million Judith and Thomas L. Beckmen YOLA Center, designed by Gehry like Disney Hall, will include a performance space, music library, studios, instrument storage and rehearsal rooms.
These projects will be added to a growing list of recent restorations that have become home to arts venues: Wallis Annenberg Center for the Performing Arts, which opened in 2013 and incorporates the former Beverly Hills post office complex, built in the 1930s; the Theatre at Ace Hotel in downtown, which opened in 2014, presenting live performances in a 1927 Spanish-style Gothic movie house; and the Marciano Art Foundation exhibition space in L.A.'s Windsor Square neighborhood, which opened in 2017 and occupies a Scottish Rite Freemasons Temple built in 1961.
"It's really exciting to see these buildings be reprogrammed, to reintroduce them to new communities in new ways without destroying them," said Adrian Scott Fine, director of advocacy for the Los Angeles Conservancy, a nonprofit preservation organization and who was involved in the May Co. restoration. "It's not at all about freezing older buildings in time; it's how do you integrate the old and the new?"
Budget friendly
Fine said the flurry of restoration activity in the arts community is part of a larger trend fueled by the same millennial tastes that have increased demand for restored buildings for so-called "creative office" workspaces.

He offered that restoration appeals to millennials on two counts: One, the appealing character of cool, old buildings, and two, a sense that recycling is a good thing, whether it's a Coke bottle or a department store.
"The greenest building is the one that already exists," Fine said.
Renovation and reuse may also provide financial incentives, he said. In general, for new construction, the largest cost is materials. For renovation, it's usually labor. Besides the feel-good fact that hiring local labor benefits the local economy, Fine said labor costs fluctuate less than materials costs, allowing for a more predictable building budget.
John Fidler, British-born president and chief technical officer of John Fidler Preservation Technology Inc. in Marina del Rey, oversaw the May Co. restoration. He observes a growing demand for renovation over new construction, bucking the stereotype of L.A.'s throwaway culture.
Fidler said he is also seeing a trend toward preservation of original construction materials, not just design elements. That mandate was imperative in restoring the May Co. "From the moment I arrived, the brief from the Academy was to preserve as much of the May Co. facade as possible," he said.
Adhering to that mandate included going back to the original manufacturer of the thousands of glass tiles gleaming on the iconic cylinder on the corner of the building: Orsini, of Venice, Italy.
The original tiles were comprised of a layer of gold leaf between two pieces of glass. Problem was, glass production has become more sophisticated since the original tiles were fabricated.
"Originally, 1930s glass had little bubbles and pockmarks, so when you put the gold and glass on top, it had a different reflectance that added to its interest," Fidler said. "So we had to devise ways with the mosaic manufacturer to mimic that by tweaking the gold to include some of that texture."
For reprint and licensing requests for this article, CLICK HERE.