Faangs Flock
Google's new L.A. home shows how biggest tech and new media companies value region
Friday, January 18, 2019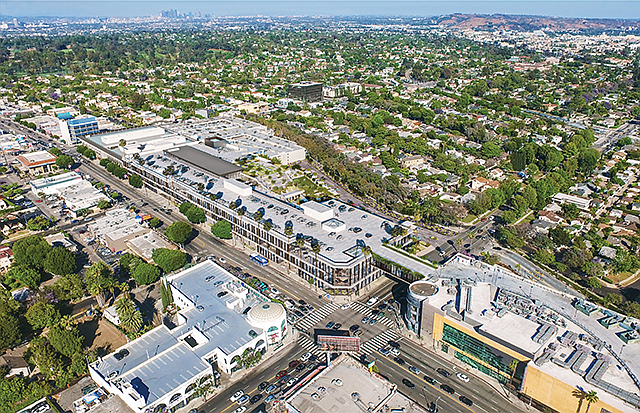 Google's expansion into the former Westside Pavilion announced this month belies a larger trend in the Los Angeles market: High-profile tech and media companies are flocking to the region, taking up huge amounts of office and creative space, and bringing thousands of jobs to the Southland.
In 2018 and 2019, there have been a flurry of large leases signed by tech, media and content companies, specifically the companies that make up what investors call the FAANG stocks – Facebook Inc., Apple Inc., Amazon.com Inc., Netflix Inc. and Google, which is an Alphabet Inc. subsidiary. These companies are looking for – and taking – large office spaces, particularly on the Westside and in Hollywood.
Google is the latest to make a move and will take over Hudson Pacific Properties and Macerich Co.'s Westside Pavilion redevelopment, now dubbed One Westside, after renovations to the site are completed sometime in 2022. The roughly 14-year lease will be for 584,000 square feet and construction is expected to begin later this year. The renovation is expected to cost between $500 million to $550 million – higher than the initial estimate of $475 million, which Alexander Vouvalides, chief investment officer at Hudson Pacific, attributed to rising construction costs. The project is being designed by Gensler.
CBRE Group Inc.'s Todd Doney and Blake Mirkin represented Hudson Pacific in the lease.
The price of the lease was not disclosed. Based on current asking rates on the Westside, the lease could be valued at more than $500 million. The average asking rate for Class A office spaces on the Westside was $5.24 per square foot during the fourth quarter of 2018, according to data provided by Jones Lang LaSalle Inc. In the West L.A./Olympic Corridor submarket, it was lower at $4.14 a square foot.
Brokers said it was hard to estimate the exact cost of the lease, however, because of a lack of comparable office space near One Westside. Vouvalides did not know how many employees Google would have in the space but said it could house roughly 3,000 based on the size of the building.
Larger trend
Google's One Westside lease follows big announcements from other FAANG members – and is not the only large-scale Hudson Pacific property to benefit from these firms' largesse. Hudson is also behind the 328,000-square-foot Epic building in Hollywood, which Netflix announced in October that it would lease entirely once construction was finished. Netflix will also extend its lease for 418,000-square-feet at Hudson Pacific's Sunset Bronson Studios.
Prev Next
For reprint and licensing requests for this article, CLICK HERE.