Faangs Flock
Google's new L.A. home shows how biggest tech and new media companies value region
Friday, January 18, 2019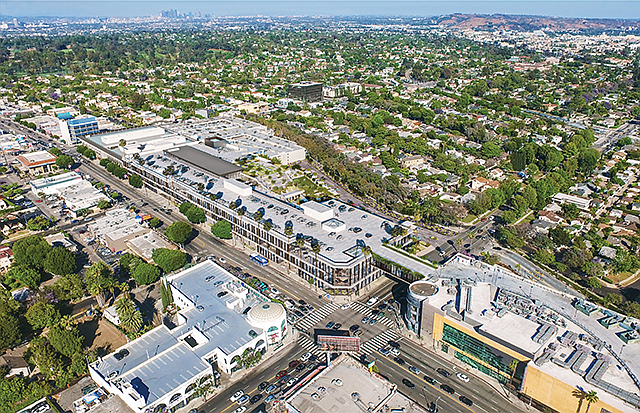 Google's expansion into the former Westside Pavilion announced this month belies a larger trend in the Los Angeles market: High-profile tech and media companies are flocking to the region, taking up huge amounts of office and creative space, and bringing thousands of jobs to the Southland.
In 2018 and 2019, there have been a flurry of large leases signed by tech, media and content companies, specifically the companies that make up what investors call the FAANG stocks – Facebook Inc., Apple Inc., Amazon.com Inc., Netflix Inc. and Google, which is an Alphabet Inc. subsidiary. These companies are looking for – and taking – large office spaces, particularly on the Westside and in Hollywood.
Google is the latest to make a move and will take over Hudson Pacific Properties and Macerich Co.'s Westside Pavilion redevelopment, now dubbed One Westside, after renovations to the site are completed sometime in 2022. The roughly 14-year lease will be for 584,000 square feet and construction is expected to begin later this year. The renovation is expected to cost between $500 million to $550 million – higher than the initial estimate of $475 million, which Alexander Vouvalides, chief investment officer at Hudson Pacific, attributed to rising construction costs. The project is being designed by Gensler.
CBRE Group Inc.'s Todd Doney and Blake Mirkin represented Hudson Pacific in the lease.
The price of the lease was not disclosed. Based on current asking rates on the Westside, the lease could be valued at more than $500 million. The average asking rate for Class A office spaces on the Westside was $5.24 per square foot during the fourth quarter of 2018, according to data provided by Jones Lang LaSalle Inc. In the West L.A./Olympic Corridor submarket, it was lower at $4.14 a square foot.
Brokers said it was hard to estimate the exact cost of the lease, however, because of a lack of comparable office space near One Westside. Vouvalides did not know how many employees Google would have in the space but said it could house roughly 3,000 based on the size of the building.
Larger trend
Google's One Westside lease follows big announcements from other FAANG members – and is not the only large-scale Hudson Pacific property to benefit from these firms' largesse. Hudson is also behind the 328,000-square-foot Epic building in Hollywood, which Netflix announced in October that it would lease entirely once construction was finished. Netflix will also extend its lease for 418,000-square-feet at Hudson Pacific's Sunset Bronson Studios.
Netflix has also signed leases for the entire 355,000-square-foot commercial space at Kilroy Realty Corp.'s Academy on Vine.
Tech giant Apple leased all 128,000 square feet of office space in a development on the corner of Washington and National boulevards in Culver City. In December, the company announced plans to grow its Culver City-based workforce to more than 1,000 people.
Amazon, too, has leased properties in Culver City. The company has plans to occupy 530,000 square feet at Culver Studios and 75,000 square feet at the Culver Steps.
All these new outposts come without the promise of taxpayer dollars, something Amazon secured from New York and Virginia as part of its much publicized "second headquarters," which the company decided to split between the two jurisdictions.
Long time in the making
In March 2018, Macerich, which owned the property, formed a joint venture partnership with Hudson Pacific. Hudson Pacific now owns 75 percent of the venture and is leading the revamp.
"When you have markets like L.A. with 20 malls, there is a lot of retail redundancy," said Spenser Allaway, a retail analyst with Green Street Advisors. "It's no surprise that a lot of these low-performing malls losing shares to malls like (the Westfield) Century City are revamping themselves."
Hudson Pacific's Vouvalides said the Westside Pavilion's proximity to light rail and the 405 and 10 freeways made it ideal for this type of project.
"It was as good as it gets from a transportation standpoint," he said. "For the physical structure itself, we had the ability to deliver 150,000-square-foot floorplates, which these tech and media companies prefer."
The companies, he added, don't want high-rise buildings. Instead, they want large footprints in low-rise buildings.
Vouvalides added that the ability to delver more than 500,000-square-foot spaces is "unparalleled in the city right now."
Retail
The Westside Pavilion redevelopment really has two elements: the 584,000-square-foot office space being leased by Google and roughly 95,000 square feet of retail space.
The movie theater currently in the center will remain.
Vouvalides said some other retail will need to be leased. Now that Google has signed on to the project, there's a lot of interest, he said.
Allaway said since the mall doesn't have many big box spaces, this type of adaptive reuse project is easier. Macy's, its last department store anchor, closed in March.18. Reconfiguring a lot of big box spaces would have huge construction costs, Allaway added.
Richard Rizika, partner and co-founder of El Segundo-based Beta Retail Ltd., said it's not just the redevelopment but retail in the area surrounding One Westside that will see an impact from the project.
"You are going to see a lot of pressure on retail rates around it," he said.
Allaway said there would be "ancillary benefits to the area" as Google employees go out for lunch, to shop and visit other businesses.
Google has been in Los Angeles since 2003, and the company moved to its Venice and Playa Vista offices in 2011, and has more than 1,000 employees in the area already. In October, Google expanded its reach in Playa Vista and opened offices at the Spruce Goose hangar.
Google said in a statement that the company was looking forward to expanding its presence on the Westside, but declined to comment further.
"Google's been a proud member of the Los Angeles community since 2003. We're excited to continue investing in the community as part of Hudson Pacific and Macerich's adaptive reuse project at One Westside," said RG Kahoe, Google's real estate project executive for the Southwest, in a statement.
Forward look
While experts asked didn't know of any other large-scale projects converting malls to office space in L.A., they agreed that a lot of malls will be adapted for alternative uses.
"We haven't seen anything to this degree, to this scale. It's unique to this property," Allaway said. "More so what we're seeing is a lot more mixed-use components, a combination of different property types being introduced to failing retail."
Landlords are adding more entertainment spaces, outdoor areas and other, nonretail businesses.
Jim Dillavou, the co-founder and principal of Paragon Commercial Group, agreed that mixed-use projects will gain steam. Paragon Commercial Group is an El Segundo-based group focused on retail properties.
"This will 100 percent continue at larger retail assets where retailers are shrinking their footprint because more of their sales are being impacted by tech, and distribution is becoming more of a focus," Dillavou said. "You don't need as much real estate. You don't need as much parking. You don't need as much dirt. That frees up land, high-quality land."
For reprint and licensing requests for this article, CLICK HERE.