Chanje Pushes E-Trucks
ENERGY: Electric vehicle-maker gets big FedEx order
Friday, January 18, 2019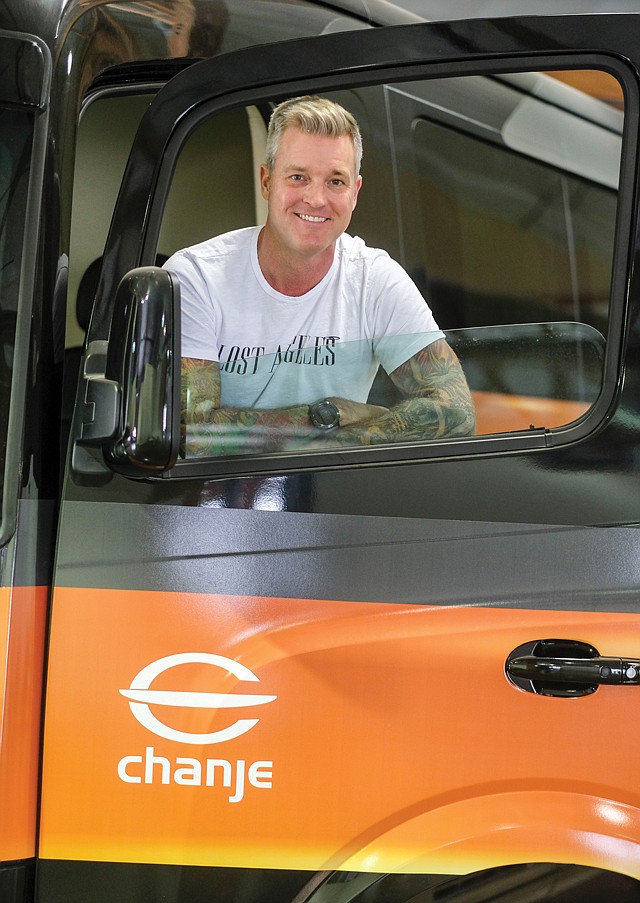 Hawthorne-based medium-duty electric truck company Chanje is revving up its sales and local presence as it recently announced one of the largest electric truck sales in U.S. history and is close to deciding on opening an assembly plant in the region.
In November, Chanje (pronounced "change") announced a deal with FedEx Corp., of Memphis, Tenn., and Ryder System Inc., of Miami, to provide 1,000 electric trucks to FedEx for the delivery service to use throughout California. Chanje is selling 900 of the trucks to Ryder, which, in turn, is leasing them out to FedEx; FedEx is buying the remaining 100 directly from Chanje.
For Chanje – which was launched nearly four years ago in Playa Vista as a joint venture between Hong Kong-based FDG Electric Vehicles Ltd. and the now defunct Smith Electric Vehicles Corp., of Kansas City, Mo. – this deal puts them on the electric vehicle map. Chanje has been targeting the short-haul delivery market with its mid-sized van-like electric truck that has a battery range of up to 150 miles and can carry payloads of up to 6,000 pounds.
"They just made the one of the biggest sales of electric commercial vehicles ever in the U.S. – if not the biggest – and one of the biggest sales globally," said Bill Van Amberg, executive vice president of Calstart Inc., a Pasadena-based consortium of companies in the electric vehicle industry. Chanje is one of the consortium's nearly 200 member companies.
This comes on top of two major previous deals with Ryder: one for 125 electric trucks in late 2017 and a subsequent reservation for 500 more trucks.
Van Amberg said other local electric truck-makers – including Thor Trucks Inc., of North Hollywood, BYD USA, headquartered downtown with a plant in Lancaster – have yet to sell electric trucks in the volumes achieved by Chanje. Thor entered into a joint venture last summer with United Parcel Service Inc. to produce a medium-duty, battery-powered delivery truck that was set to start deployment at the end of last year. BYD has focused most of its resources on electric buses.
Driving force
Chanje's president Ian Gardner said the driving force behind the large orders coming into his company is the tremendous growth of online shopping.
"Online commerce is forcing the industry to look outside the traditional delivery models," Gardner said. "Independent contractor networks are exploding and evolving."
Also, FedEx and other delivery companies are facing state and other global government mandates to reduce their fleets' carbon footprint.
Chanje's deal with FedEx and Ryder is also the first to go beyond providing electric trucks to include maintenance. Ryder will provide preventive maintenance, warranty work and parts distribution services for the vehicles FedEx will operate.
Later this year, Gardner said, Chanje plans to expand the suite of services offered to its electric truck customers to include electric charging stations and even electricity. The idea is to bundle all these services into a single monthly charge, essentially a subscription package.
"We are seeing from our large fleet partners that they want to work with drivers and owner/operators to offer the full range of services with just one charge per month or per mile," he said. "This includes the trucks, the charging stations, the electricity and the service and maintenance – a one-stop shop."
Gardner said the advantage of a subscription approach is it eliminates the major up-front investment that is a barrier for potential customers, much like introduction of leasing plans for rooftop solar panels made those panels more affordable for a broader swath of residential customers. It also eliminates the hassle of the customer having to arrange for their own charging stations and electricity usage plans.
"It takes much of the risk out of the user's hands, and the user gets all the services that go along with an electric truck without having to worry about all the details," Calstart's Van Amberg said.
To this end, Chanje plans to use a $3 million grant it received last month from the South Coast Air Quality Management District to set up truck depots with charging stations for its customers.
"Chanje helps companies like Ryder replace diesel emissions trucks with zero-emission, battery-powered trucks," district spokesman Patrick Chandler said in explaining why the district chose to award the grant to Chanje.
Site search
Chanje, which last year moved its office from Playa Vista to a building near Hawthorne's municipal airport, currently imports the trucks it sells from chief financial backer FDG Electric Vehicles' plant in China's Guangdong province. That plant can produce more than 100,000 electric vehicles per year. For almost two years, Chanje has been searching for a site for a final assembly plant in the United States; most of the parts would continue to be produced in Asia and then imported in kit assembly packages that would be assembled at this new plant.
Gardner said last week that Chanje is close to making an announcement on the site for its planned 150,000-square-foot assembly plant. He said the company is considering one site in Los Angeles County and two other sites in North America. "The key elements are access to a really strong talent pool and a strong port," he said.
An announcement on the assembly plant could come as soon as next month, he said.
Gardner said the new plant could slightly reduce Chanje's exposure to trade tariffs imposed on steel and other Chinese imports. But the component kits that Chanje would import from FDG's Chinese plant could still be subject to tariffs.
"We have some flexibility to accommodate our strategy to minimize impact of tariffs," he said.
Gardner said that in the next few months, Chanje will introduce two new truck models to complement its single 8-meter-long van model now on the market; he declined to give details.
For reprint and licensing requests for this article, CLICK HERE.