Chanje Pushes E-Trucks
ENERGY: Electric vehicle-maker gets big FedEx order
Friday, January 18, 2019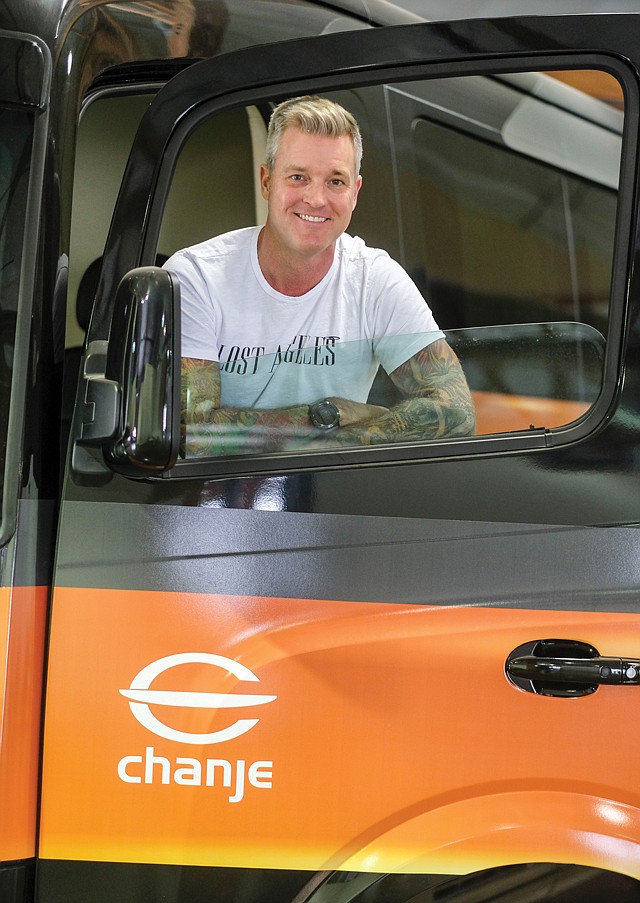 Hawthorne-based medium-duty electric truck company Chanje is revving up its sales and local presence as it recently announced one of the largest electric truck sales in U.S. history and is close to deciding on opening an assembly plant in the region.
In November, Chanje (pronounced "change") announced a deal with FedEx Corp., of Memphis, Tenn., and Ryder System Inc., of Miami, to provide 1,000 electric trucks to FedEx for the delivery service to use throughout California. Chanje is selling 900 of the trucks to Ryder, which, in turn, is leasing them out to FedEx; FedEx is buying the remaining 100 directly from Chanje.
For Chanje – which was launched nearly four years ago in Playa Vista as a joint venture between Hong Kong-based FDG Electric Vehicles Ltd. and the now defunct Smith Electric Vehicles Corp., of Kansas City, Mo. – this deal puts them on the electric vehicle map. Chanje has been targeting the short-haul delivery market with its mid-sized van-like electric truck that has a battery range of up to 150 miles and can carry payloads of up to 6,000 pounds.
"They just made the one of the biggest sales of electric commercial vehicles ever in the U.S. – if not the biggest – and one of the biggest sales globally," said Bill Van Amberg, executive vice president of Calstart Inc., a Pasadena-based consortium of companies in the electric vehicle industry. Chanje is one of the consortium's nearly 200 member companies.
This comes on top of two major previous deals with Ryder: one for 125 electric trucks in late 2017 and a subsequent reservation for 500 more trucks.
Van Amberg said other local electric truck-makers – including Thor Trucks Inc., of North Hollywood, BYD USA, headquartered downtown with a plant in Lancaster – have yet to sell electric trucks in the volumes achieved by Chanje. Thor entered into a joint venture last summer with United Parcel Service Inc. to produce a medium-duty, battery-powered delivery truck that was set to start deployment at the end of last year. BYD has focused most of its resources on electric buses.
Driving force
Chanje's president Ian Gardner said the driving force behind the large orders coming into his company is the tremendous growth of online shopping.
"Online commerce is forcing the industry to look outside the traditional delivery models," Gardner said. "Independent contractor networks are exploding and evolving."
Also, FedEx and other delivery companies are facing state and other global government mandates to reduce their fleets' carbon footprint.
Prev Next
For reprint and licensing requests for this article, CLICK HERE.