The 'Wood is Good
Inglewood rises as football stadium, other projects progress
Friday, January 11, 2019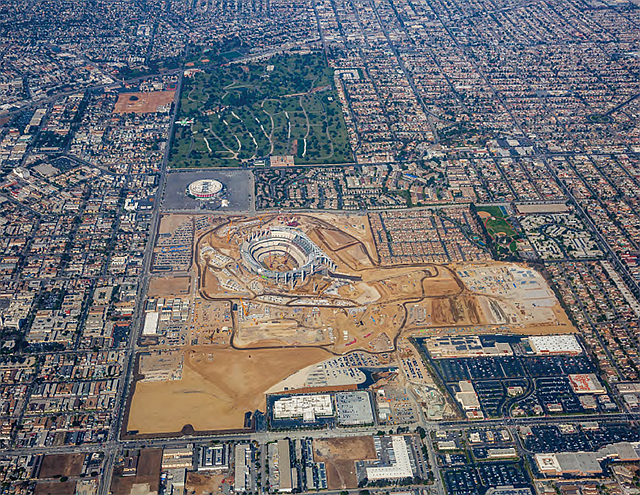 Development in Inglewood has skyrocketed ahead of the opening of the stadium that will house the National Football League's Los Angeles Rams and Los Angeles Chargers.
The stadium is part of the LA Stadium and Entertainment District at Hollywood Park, a massive development spearheaded by Rams owner Stan Kroenke. The development features a performing arts venue; 2,500 units of housing; and 890,000 square feet of retail space. It will also have a 300-room hotel; 780,000 square feet of office space; 25 acres of parks; and a performance venue.
It will open in stages starting in 2020.
"History is being made," Inglewood Mayor James Butts said.
The construction of multiple aspects of the project is ongoing and is reshaping the landscape of Inglewood, with hotels as a key aspect.
In addition to the hotel in the LA Stadium and Entertainment District at Hollywood Park, a 120-room Tru by Hilton hotel is planned for the area.
"L.A. puts hotels where they think people will occupy them," Butts said. "It's more than the stadium. L.A. has changed its brand. It's clear we're going to be a destination city."
Inglewood will also be a destination for businesses looking to grow, said CBRE Group Inc.'s Senior Vice President Robert Healey Jr.
"Hollywood Park is the catalyst to the positive impact that is occurring in the city of Inglewood," Healey said. "More and more tenants are wanting to talk about Inglewood, wanting to understand more about the stage of where Hollywood Park is."
NFL Media is developing a 200,000-square-foot complex at Hollywood Park, expected to open in 2021.
Healey said the area is unique in that it is one of the few areas in Los Angeles that can accommodate large tenants.
"We have the ability to customize buildings for them. There is a good amount of land and entitlements for them," he said.
Other entertainment sources are betting big on Inglewood. The Los Angeles Philharmonic will relocate its youth orchestra to a Frank Gehry-designed project in the city. The Los Angeles Clippers are also looking to build a stadium in Inglewood although the project has yet to be approved.
Housing push
The construction boom is not limited to commercial space around the stadium. Several large residential projects are in the works as well, including a 228-unit detached condominium complex at 333 N. Prairie Ave. being developed by Harridge Development Group.
Compass Commercial Executive Vice President Dario Svidler said that while the stadium is a huge development, it may not be the most meaningful one for the city's residents. That would be the Los Angeles County Metropolitan Transportation Authority's $2 billion Crenshaw Line, which is set to open at the end of 2019.
Prev Next
For reprint and licensing requests for this article, CLICK HERE.