Training or Gaming?
Zwift straddles the exercise and e-sports market with cycling software
Friday, January 11, 2019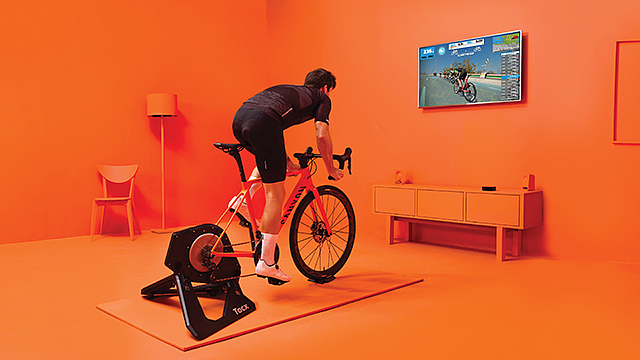 The sporting component of e-sports is not traditionally associated with vigorous physical activity; players compete while mostly stationary with on-screen gameplay providing the main draw.
Zwift Inc. wants to change that.
The Long Beach-headquartered company has rolled out plans for a new e-sports league that brings together professional cycling, video gaming and fitness tracking software to create a new dynamic in the e-sports world.
Zwift spokesman Chris Snook said the company targets established cycling enthusiasts, capitalizing largely on the growing cycling and virtual fitness training market in the United Kingdom and Europe.
"Zwift is the first to really link the physical world to the e-sports world, and to create high-level racing with pro athletes by bringing existing pro athletes to the e-sports platform for the first time," Snook said.
Since its 2014 launch, Zwift has raised a total of $166 million and plans to launch its league and add 100 new employees to its existing staff of 200 by the end of first quarter 2019. The bulk of the company's funds were raised in a $120 million Series B fund that was finalized Dec. 19.
The round was led by Swiss growth-stage investment firm Highland Europe and featured participation from existing investors Novator, based in London, and Causeway Media Partners, a Boston-based venture capital outfit.
The company declined to disclose revenue figures.
Zwift operates on a subscription model and charges $15 a month for access to its software, which allows users to participate in virtual cycling races. Unlike some other fitness programs, Zwift doesn't lock users into long contracts, according to Snook, who said the company's Chief Executive Eric Min prefers the no-contract subscription model.
"It keeps us on our toes, because we know we have to deliver month over month to get users to keep their subscription going," Snook said.
While the e-sports-as-fitness model is still nascent, some industry onlookers are excited about it.
"From an investor perspective, if you have data around subscriptions, that is exciting," said Malte Barth, principal at Germany and Santa Monica-based e-sports investment firm Bitkraft Esports Ventures. "If people have credit cards down, if they use it or not, they (still) keep paying. It'll make you excited if you can see renewal and churn rates."
Hardcore
Zwift isn't marketed to casual cyclists or traditional e-sports gamers looking to try something new, according to Snook.
"Our real market is the enthusiast cyclist, not the health and fitness user. ... We go after that core cyclist looking to maximize their training (and) we want to be something that allows cyclists to train more often than they otherwise would have been," he said.
To use Zwift Cycle, the user must own their own trainer or stationary bike equipped with technology that monitors performance and is connected to the internet. There are models that have built-in hardware that measures cadence, speed and internal activity data. Traditional stationary training bikes can be outfitted with sensors that connect to Zwift's software (and users' smartphones) to keep track of user activity and transmit it to the gaming platform.
"Efforts made in the real world are relayed directly to Zwift and allow users to train, complete social rides and race on the platform," Snook said.
Gameplay and race leaderboards can be broadcast on any television. Zwift doesn't currently offer a propriety hardware product for its cycling e-sport platform, like a stationary bike or trainer, which Barth said is a plus because the company doesn't have to worry about manufacturing overhead.
"I would see this as a big plus from an investor perspective," Barth said "If I don't need to do my own hardware and put a lot of money in the market in terms of pre-financing hardware and putting it out, I could be having a nice gross profit margin."
Growing market
The company is moving into other space spaces, however, which include some smaller hardware products.
Zwift acquired fitness hardware developer Milestone Sports in early 2018 for an undisclosed sum and now sells the Israeli company's running trackers as part of a trial running program.
Zwift's push into the wearable fitness space comes as the market for trackers and other gadgets continues to grow. Industry tracker Statista Inc. said the market was worth $2.5 billion worldwide in 2017. The research firm expects the worldwide smart wearables market will grow to 830 million units in 2020 from 325 million units in 2016.
To capitalize on this expansion, Zwift operates offices in New York City and London, but the bulk of its employees (roughly 140) are stationed in Long Beach, Snook said.
Zwift plans to adapt its software into a new e-sport league, which will launch in first quarter 2019 and host global cycling races on its platform.
Snook declined to discuss league specifics but said it will exist somewhat as a competitor to popular cycling fitness racing platform Peloton Interactive Inc., which is the leader in the internet-connected home fitness market. Peleton has nearly $1 billion, according to CrunchBase Inc., including a $550 million round last year that valued the company at north of $4 billion.
"Like Peloton, people can ride together at the same time, but the difference is head-to-head racing where you see the rivals on screen," as you compete, whereas Peloton simply tracks user progress and does not simulate a dynamic race.
The first men's league race will happen Jan. 23 in London, with a women's event scheduled for Feb. 5.
Snook said Zwift's first partner is the British Cycling Federation, which will host a national championship on Zwift later this year.
The question over whether Zwift is really an e-sports platform is somewhat undecided as the edges of virtual and "IRL" competition begin to blur.
"What we're seeing really happening in a prolific way is the industry is showing a lot of these types of hybrid entertainment experiences that are a blend between the virtual and the real," said Brian Mirakian, senior principal at Kansas City-based Populous Inc., an e-sports venue design firm.
Mirakian has worked with Activision Blizzard Inc. in Santa Monica and Sawtelle-based Riot Games Inc. but said Zwift's concept is something new though he still classified it as an e-sport.
"We gamify virtually everything now," Mirakian said. "Things are starting to get more structured, and I think this nature of the hybrid entertainment experience between the virtual and the real will continue to develop."
For reprint and licensing requests for this article, CLICK HERE.