Earnings Report: Jakks Closing on Meisheng Deal; Stems Losses
Tuesday, February 26, 2019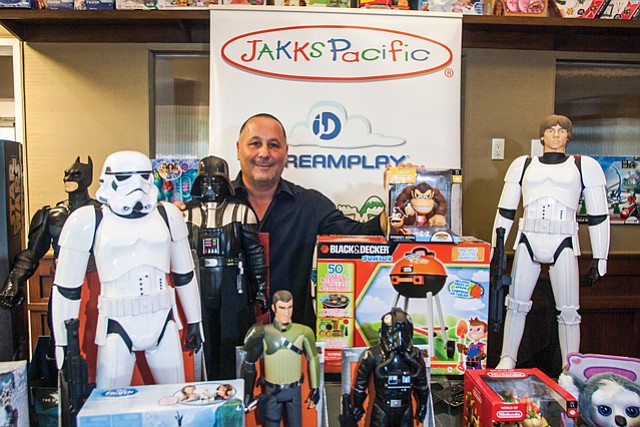 A Chinese company's bid to take over struggling Santa Monica toymaker Jakks Pacific Inc. appears to be coming to a close, according to a Feb.26 Securities and Exchange Commission filing that suggest the deal hinges on restructuring the company's debt.
Jakks is "in the final stages of negotiations" with Hong Kong Meisheng Cultural Co. Ltd., according to the filing. Meisheng would pay $50 million to gain a controlling stake in the company, according to Jakks' SEC report. The company is also in talks with Oasis Investments and an ad hoc group of creditors who own some of Jakks outstanding debt.
The company owes about $145 million in convertible notes due 2020. As part of the talks, it's seeking to extend the maturity date of those notes to 2024 and insert protections for investors whose shares would be diluted by the issuance of new shares to Meisheng.
The offer by Meisheng – owned by China-based parent company Meisheng Cultural & Creative Corp. Ltd. – to purchase newly issued Jakks' shares in order to increase to 51 percent has dragged out for more than a year.
Jakks blamed the negotiations for its failure to hold a shareholder meeting in 2018. Nasdaq warned the company in January that it faced delisting from the stock exchange for not holding the meeting.
Jakks' financial health is improving, however, and the company reported in a Feb. 26 earnings call that accompanied the SEC filing that it had stemmed 2017's heavy losses. The company posted a loss of $42.4 million, which was about half Jakks' $80.1 million 2017 loss. The company's $3.2 million loss in the fourth quarter of 2018 is also down significantly compare to 2017 when it took a $30.4 million loss in the same period. Topline revenue for 2018 was down to $567.8 million in 2018 compared to the previous year's $613.1 million in sales.
Jakks' Chairman and Chief Executive Stephen Berman made no mention of the Meisheng deal on the Feb. 26 call, but said, like other toy companies, Jakks' bottom line had taken a hit from the closure of retailer Toys R Us.
Still, Berman struck an optimistic tone: the company projected five percent growth in 2019.
"We believe the past hardships are behind us and we see a really good future going forward," Berman told analysts.

Manufacturing, retail and trade reporter Rachel Uranga can be reached at ruranga@labusinessjournal.com or (323) 549-5225 ext. 251. Follow her on Twitter @racheluranga
For reprint and licensing requests for this article, CLICK HERE.